Many WordPress site owners, especially bloggers, think that SEO is a very complex and difficult process.
While it shouldn't be that hard.
Some may see that there are many advantages in hiring an SEO specialist for your site.
But it would also be good if you make some steps yourself to improve the internal SEO of your site using some of the tools available.
WordPress integration with Yoast SEO
If you are looking for a powerful, flexible and easy-to-use system to manage your website, then WordPress is definitely the best solution.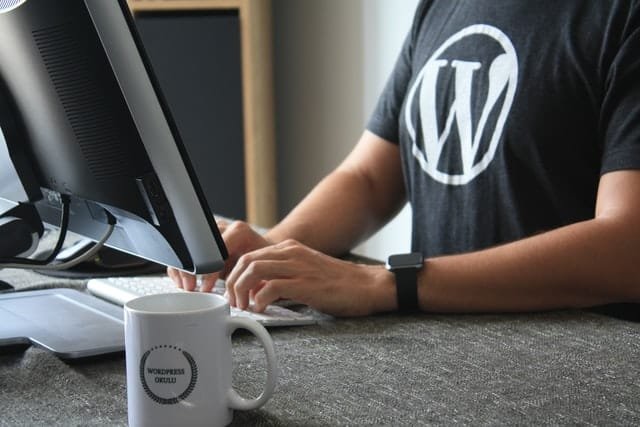 There are more than 500 new WordPress sites launched daily, due to its ease of use and low cost.
WordPress is free and open source, which means that it is highly customizable.
Many programmers and developers from all over the world are developing plugins that allow you to customize your site and add new functionality to it to suit your needs such as:
Add social sharing buttons.
Get analytics and track activities on your site.
Block and filter annoying comments.
Create a photo gallery.
Optimizing the site for different search engines.
And many other functions that are not available by default in WordPress.
Here are examples of some of the most popular WordPress plugins.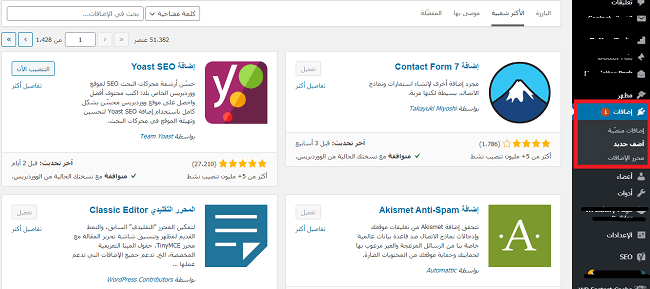 You can learn about the most popular WordPress plugins through your site's control panel by..
Extras > Add New > Most Popular
Now that you know the WordPress system, and how different plugins can help you benefit from your site.
Let's talk about the addition, which is the focus of our topic today Yoast SEO.
Yoast SEO It is the most popular and most important addition for many website owners and bloggers, of course.
What is Yoast SEO and what does it do?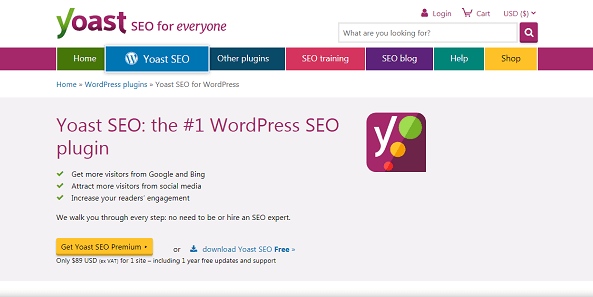 It is a custom plugin for customizing WordPress sites internally for search engines in an easy and simple way for the average user.
The plugin's slogan is "SEO for everyone." And the plugin actually makes SEO possible for everyone, even beginners!
It does not matter how well you understand the SEO process, it makes everything easy and simple and does not require any experience to deal with it.
The plugin guides you through every step, and uses an easy-to-understand method to point out problems on your site and how you can solve them using colorful guiding signs.
Here is an example of what the plugin looks like in the backend of a WordPress site
We will talk about how to download the extension, and the correct way to adjust its settings and use it later.
But I just want to show here what the extension looks like in the backend of your site.
There are two versions of Yoast One is free And The other is paid.
For small sites, you can get everything you need from the free version, and for large sites and bloggers, you will find more features in the paid version.
Features of the free version of Yoast seo addon
The ability to adjust the article title, article link, and meta description to suit the requirements of search engines.
The ability to review the final appearance of the article on the search engine results page.
Keyword usage analysis.
The possibility of calculating the number of internal links in the article.
Check the readability of the article for users.
Features of the paid version of Yoast seo addon
Link Redirect Tool (301 Redirect)
Suggestions for creating internal links
Social sharing preview
The ability to focus on multiple keywords within one article.
SEO can be complicated and tricky if you are only a beginner, yet ignoring it and not paying attention to it would be a huge mistake.
You will find that Yoast is easy to use and will help you a lot in the process of optimizing your site for search engines.
In this guide, we will cover almost everything step by step to get the most out of this great add-on.
How to install Yoast SEO plugin in WordPress
If you have already downloaded and installed the extension on your site and just want to know the steps to setup and use the extension correctly, you can skip this part!
If you haven't added Yoast to your site yet, let's get started.
After logging in to your site, click on "Add New" below the "Additions" option in the control panel.
Now you will go to the free WordPress plugins repository.
Type Yoast in the search box at the top of the page.
Then click on the "Install Now" button inside the extension window.
Because WordPress is an open source system as we mentioned earlier, you have to be careful when downloading and using any plugin on your site.
You should always check each plugin before using it, reviewing other users' opinions of the plugin, the rating it got, the date it was last updated, and its compatibility with your WordPress version.
After you download the extension to your site, you must activate it by clicking on the "Activate" button.
Thus, you have installed and activate the work of the extension on your site.
If you go back to the WordPress dashboard now you will find the Yoast SEO plugin in the sidebar under the name "SEO"
The next step you will learn to adjust the necessary settings to get the most out of this wonderful add-on.
Adjust Yoast SEO Settings
Now that you have activated the Yoast extension on your site, you can start using it and benefit from it to improve search engines and get free traffic.
The first step in adjusting the extension settings depends on whether you are using another extension for SEO or not.
If you are using another addon then Yoast enables you to import your old settings, and if you are not using another addon you can skip this part.
If you are already using another SEO plugin, do the following:
go to the Import and Export < Tools < SEO From your site control panel.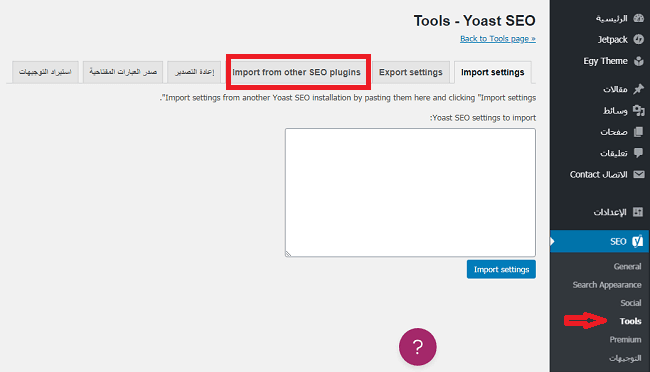 Then choose "Import from other SEO plugins"
You will find that you can choose from a number of other SEO plugins such as:
"All-in-One SEO", "wpSEO", "Woo SEO Frameworks" and others..
You can choose the extension that you are already using on your site and then click the "Import" button.
And you will Yoast Import the extension's settings, including the sitemap, the default address form, and other settings.
note: This feature is only available in the paid version of Yoast Seo add-on.
In the event that you are not using an SEO plugin on your site, do the following:
Even if you import settings from another add-on, I highly recommend that you also adjust the add-on's settings in the way we will explain now to get the most out of Yoast's features.
Now we will adjust the settings of the Yoast add-on before starting to use it, and learn about each step and its importance in detail:
First: Click on SEO in the dashboard sidebar of your site.
You will then go to the control panel for adding Yoast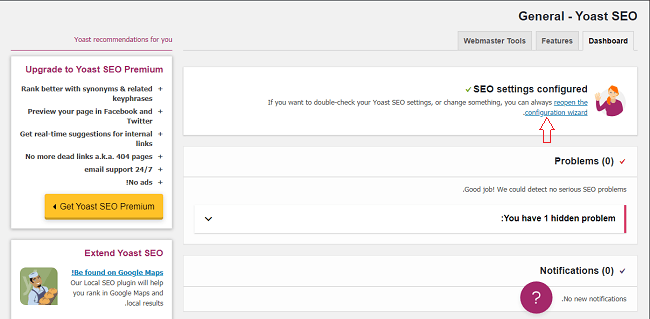 Here you will find notifications in case of problems related to your site's SEO, and any other notifications.
We will start with automatic setup or express setup, which will guide us step-by-step to the correct setup of the extension.
Just click on the "Configuration Wizard" link to launch the setup process.
Now let's get started…
First step: environment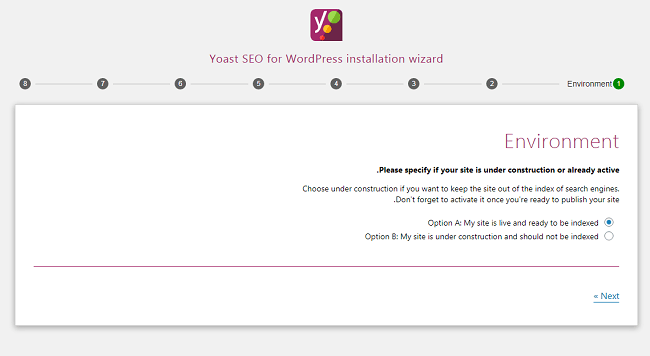 Here, Yoast wants to know the nature of your site, is it an already existing site and ready for archiving, or is your site still under construction and not ready for archiving?
Of course we will select the first option since we want to use the extension for an already existing site.
If you select the other option, this means that the extension will block your site and prevent it from archiving until it is ready and complete.
Then click Next
Second step: site type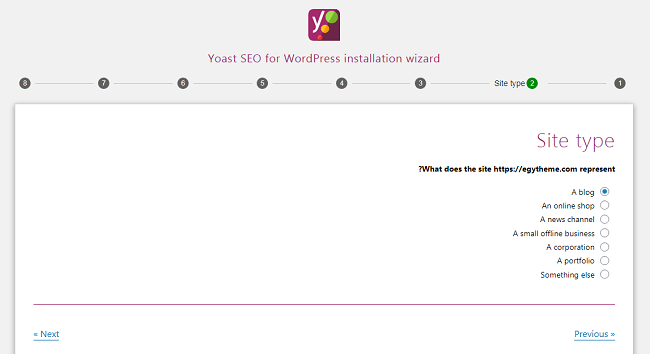 It is simply choosing the type of your site (blog, online store, news site, service site or personal site).
You can choose the type of your site.
Then press Next
Third Step: Organization or person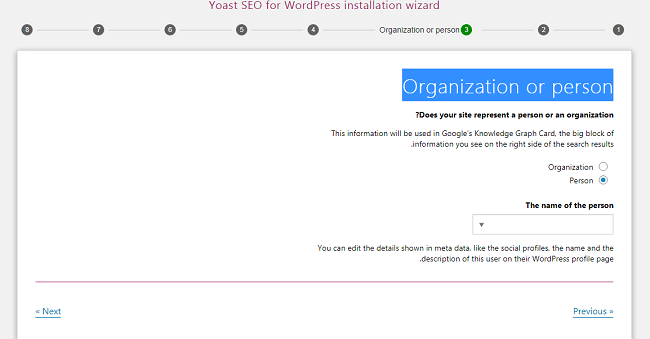 Here you must specify whether you represent an organization or a single individual who manages the site.
If you choose "Person", you will be asked to write your name.
If you choose "Organization", you will be asked for the name of the company or organization and to raise your logo.
Then press Next
Step Four: Search engine visibility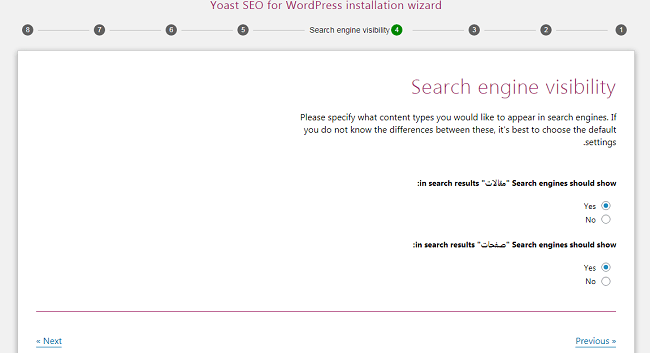 Here you can choose what type of content you want to display in search engines.
Do you want your website pages to be displayed in search engines?
Also, do you want to display your site's posts (articles) in search engines?
You can leave the default setting for this step as is.
Then press Next
Step Five: Multiple authors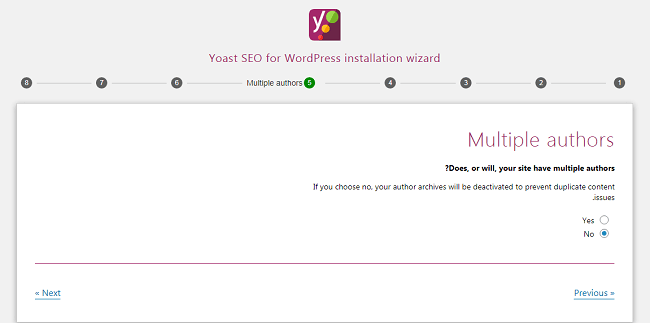 In this step you need to determine whether there is one writer or several people to create the content of the site.
If you are the only one who is adding the site's content, then choose No.
If there are multiple people responsible for adding the site's content, choose Yes.
If only you are adding content, Yoast will disable Author Archive to prevent duplicate content issues.
Then press Next
Sixth step: Title settings
In this step, you can change the name of your site as you want it to appear in the search results.
You can also choose the type of separator that appears between the article title and the site name on the search results page.
Then press Next
Seventh Step: Continue learning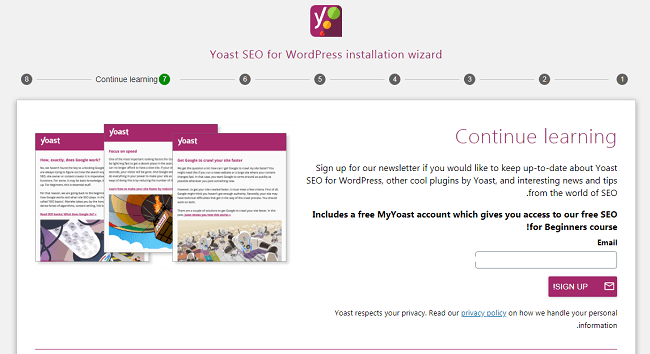 In this step, the Yoast addon offers you to subscribe to the newsletter to follow up on everything new about the add-on or search engine optimization in general.
It is an optional step that you can ignore, but I do not advise you to do so.
Step Eight: Success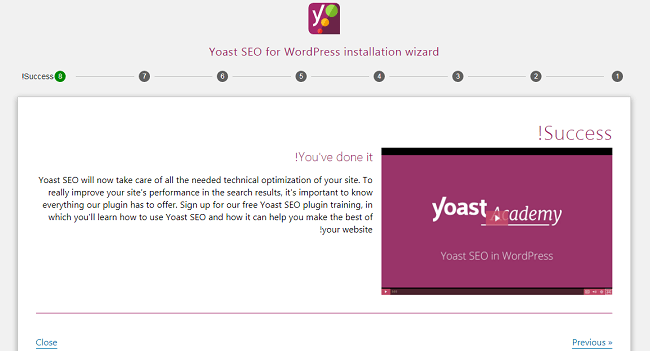 Congratulations.. You have now configured all the settings for Yoast and you are ready to go.
Using Yoast . Add-on
After activating the extension and adjusting all its settings, the extension will start working as soon as you start writing a new post.
The Yoast addon helps you greatly improve the internal SEO of your site or the so-called (on page seo).
Including helping you improve titles, meta descriptions, keywords and more…
Now let's get to know what the extension looks like and explore all the available options:
When creating a new post in WordPress, scroll to the bottom of the editor and you will see a new box which looks like this: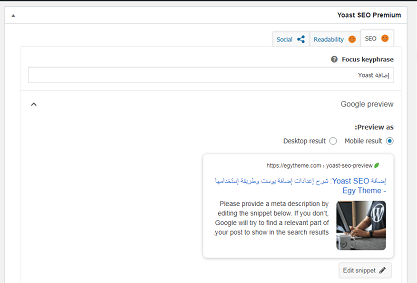 As you can see at the top there are three tabs which are Seo, Readability, and Social.
Now we will briefly discuss each of them.
First: Seo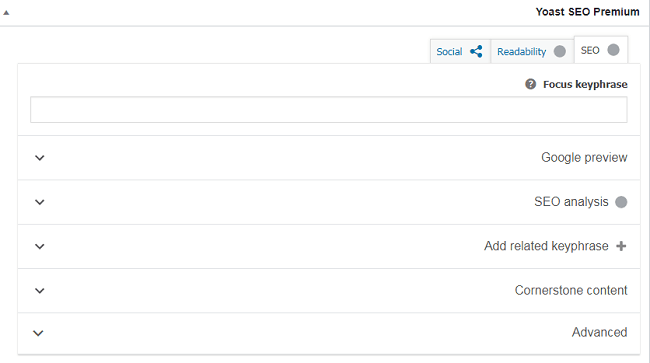 Its primary function is to assist you in achieving the terms and requirements of SEO.
Such as adjusting the location of the keywords, the length of the title and description of the meta, the availability of internal and external links in the article, and others..
It is divided into:
Focus keyphrase -1: To put the keyword of the article, on the basis of which Yoast gives you the necessary instructions to prepare the article for search engines.
By ensuring the appropriate distribution of the keyword within the article, such as the title, introduction, body of the topic, conclusion, meta description, and the extent of its repetition in proportion to the length of the article.
Google preview -2: To help you adjust how your site appears on search results pages, by typing the appropriate title and meta description, and the ability to preview on both computer and mobile screens.
3- SEO Analysis: To help you achieve your SEO requirements, with some tips and guidelines to get the best results with colored bookmarks.
4- Add related keyphrase: Where you can put synonyms for the keyword, or other keywords related to the keyword.
5- Cornerstone content: You can enable it if you are currently posting a major or very important topic and you want all your visitors to see it.
6- Advanced: It is to do some advanced actions, such as allowing or blocking some posts from appearing in search engine results, adding some special tags, or referring to an address url Different.
Second: Readability

It is specially designed to help you prepare the article to be easy to read, and the add-on guides you to the necessary steps for that, in terms of the length of paragraphs, the number of words in each sentence and others..
Third: Social
It is intended to help you configure the look, title and image of the article before publishing on social media such as Facebook and Twitter.
Yoast uses simple beacons to show if you're OK.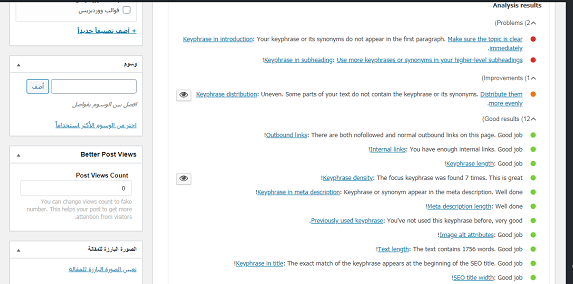 the color the green It means you're going well, andyellow means you can do better, andthe Red It means that you have to do some adjustments.
In the end, I hope this guide will answer some of your questions about how to use the Yoast SEO plugin and how to take advantage of it.
As you can see, it is a very useful and effective SEO tool for website owners of all levels.
I've been using the extension myself for years and highly recommend it, it makes the process of optimizing and optimizing your site for search engines very easy and efficient.
Have you ever used Yoast SEO before? Did you find it useful for your business?
Share your opinion or questions with us in the comments below the article!