WP Rocket It is the most popular WordPress caching plugin, designed to improve performance and speed of WordPress sites with minimal effort.
It is currently used on over a million websites, and it is an easy-to-use and feature-rich add-on.
Caching is a very important process in improving the performance of any website, and it can cause damage to your site if you don't do it correctly.
There are a lot of free and paid WordPress caching plugins out there, but it's best to choose one that provides support and suits your needs.
WP Rocket is one of the best WordPress caching plugins due to its ease of use and many features.
But is WP Rocket the best WordPress caching plugin?
We will answer that question in this comprehensive WP Rocket extension review.
Here are the main points we are going to talk about today:
WP Rocket extension overview.
WP Rocket extension price.
The most important features of the WP Rocket extension.
What I like about WP Rocket.
What I don't like about WP Rocket plugin.
Final judgment and recommendations.
Noticeable:
There are few WordPress caching plugins that can beat WP Rocket in terms of performance, ease of use, support, regular updates, and additional features, but the only downside is that they are more expensive.
Overview of the WP Rocket plugin
WP Rocket is an easy-to-use WordPress caching and performance optimization plugin that enables you to speed up your site in a few simple steps.
WP Rocket is currently used on over a million WordPress sites.
The extension reduces the average loading time of your site by:
Create page cache.
Compress HTML, JavaScript, and CSS files.
Slow loading of images.
In addition to many more features..
You can configure WP Rocket plugin settings easily, it is a great plugin for non-technical beginners to get a fast WordPress site.
WP Rocket extension price
WP Rocket offers three different packages:
As shown, the license for all packages is for a period of one year, which includes access to all updates and support.
The WP Rocket extension will continue to work on your site even after the subscription period expires, but you will not get updates and support.
There is also a 14-day money-back guarantee from the date of your subscription.
Choose the right package for you now
---
The most important features of the WP Rocket extension
WP Rocket plugin offers many great features that make it easy to optimize any type of WordPress site.
1. Quick setup
A common problem with most WordPress caching plugins is that configuring settings is a bit complicated even for experienced users.
This is what the developers of WP Rocket wanted to solve by developing an easy-to-use WordPress caching plugin that can be configured in just a few minutes.
How to install and activate the WP Rocket extension
After purchasing the extension license you will get a download link, where you should be able to download the zip file.
After downloading the zip file and saving it on your computer, you should now go to the WordPress control panel, then click on the "Plugins" tab and then "Add New"
After that, you will be able to download the file by clicking on the "Upload Add" button located at the top of the page.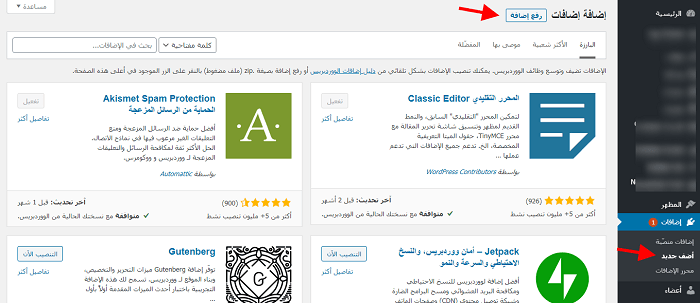 After that, click on the "Choose File" button, choose the extension file from your computer and download it, then click on the "Install Now" button.

The installation process will take a few seconds, once the file is finished downloading, press the "Activate Extension" button.

Once you activate the WP Rocket plugin on your site, page caching starts automatically, but you can do a lot more with this great plugin.
After activating the extension, you will be taken to a list of all installed add-ons, and there you need to search for the WP Rocket extension and then click on the word "Settings" under it.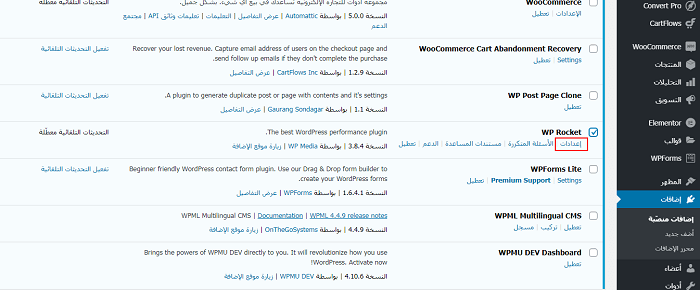 Or you can also access the plugin's settings page by clicking on the "WP Rocket" sub-tab under the main "Settings" tab in the WordPress dashboard.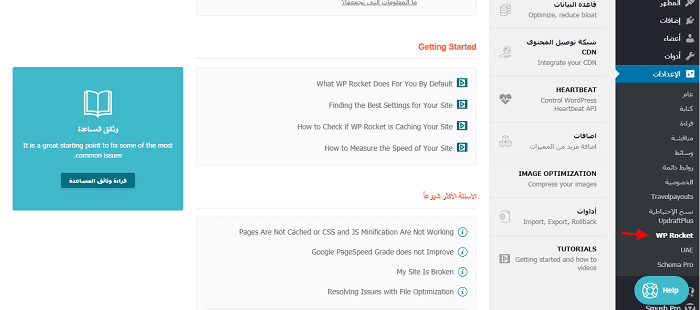 In the left control panel you will see all options to adjust cache settings, optimize files and databases, load media and cache, adjust CDN settings, optimize images, and more…
temporary storing
Caching is the primary feature of the WP Rocket extension.
The content of the page that the visitor visits for the first time is stored in the cache of the visitor's browser.
And when the user revisits the same page, the site cache calls up and loads the stored content much faster than on the first visit.
To adjust the cache settings, all you have to do is visit the WP Rocket extension settings page and then click on "Cache" or "Cache"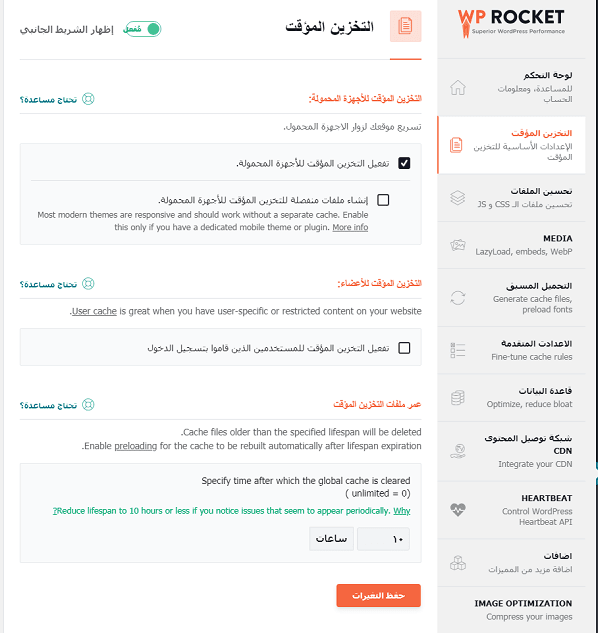 Here you will be able to modify caching for:
Mobile devices for a fast mobile version of your site.
Members caching enables you to customize a version of your site for members that is different from that of a regular visitor.
Adjust the lifetime of cache files You can increase the duration if your site displays static content that does not change.
You can also set advanced caching rules such as excluding specific pages or articles from caching.
It also clears specific URLs, or prevents certain pages from being cached if there are cookies, etc..
You can find these settings in the "Advanced Rules" tab.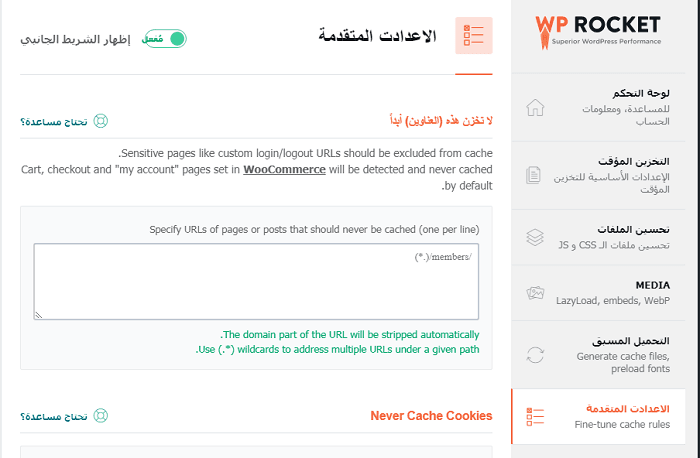 Browser caching
With browser caching, a web page's static files are stored in the browser (eg Google Chrome)
Once a visitor visits this page, the static files do not need to be uploaded again, resulting in a faster loading time.
Zoom out
WP Rocket also compresses CSS, JavaScript, and HTML files through Minification, resulting in faster loading time.
Database optimization
Unlike many other caching WordPress plugins, WP Rocket allows you to clean your database to remove any redundant files and reduce their size.
You can also set up a schedule to clean the databases regularly or do it manually.
To adjust the database optimization settings, go to the WP Rocket settings page and click on the "Database" or "Database" option.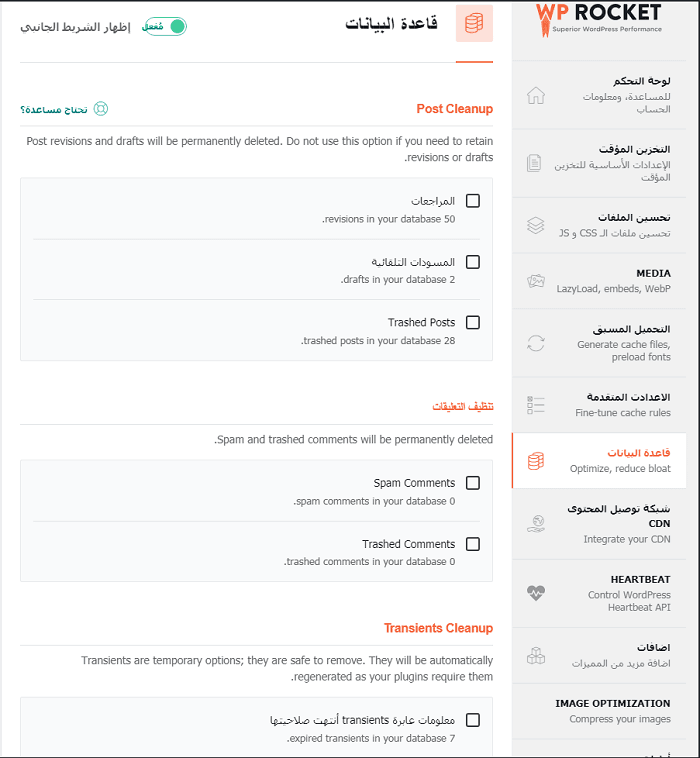 Here you will be able to delete reviews, auto-drafts, deleted posts, spam, neglected comments, etc..
At the bottom of the page there is a "Schedule Automatic Cleanup" option that allows you to schedule database cleanups on a daily, weekly or monthly basis.
But be careful and back up your database, as the database cleaning process cannot be undone.
After adjusting the settings, click on the "Save changes and optimize" button at the bottom of the page.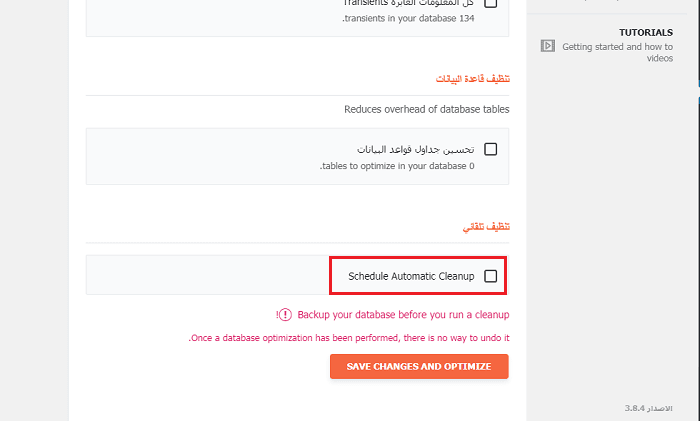 6- Slow loading of images
The more images in a web page, the longer the page load time.
The most common and effective solution is to enable the "Lazyload" feature which loads images in turn when the visitor scrolls down the page instead of loading all the images at once.
You can enable or disable the lazyload feature for images, iframes, and videos in the Media or Media section of the WP Rocket dashboard.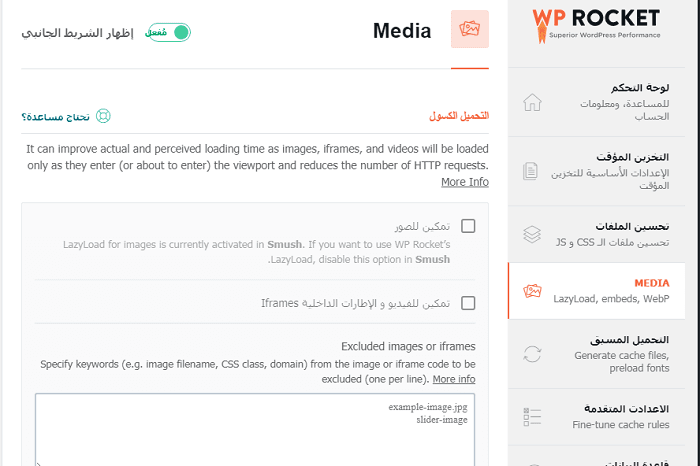 You can also enable or disable emojis and embedded media.
Integration with e-stores
Many WordPress plugins are not compatible with e-commerce plugins like Woocommerce which causes some problems in your online store.
As these extensions cache all pages including cart pages, payment and account data.
This way visitors will not be able to see the updated cart page and other details that are updated in your store.
This will have significant repercussions on your business if left without a radical and robust solution.
WP Rocket is fully compatible with other e-commerce WordPress plugins such as Woocomerce, Easy Digital Download, iThemes Exchange, Jigoshop, and WP-Shop.
The WP Rocket extension automatically detects all Woocommerce pages and excludes them from the caching process.
Compatibility with multilingual websites
WP Rocket is also compatible with WordPress translation plugins Like GTranslate, Polylang, and WPML.
Other features in WP Rocket addon
Photo Enhancement
GZIP compression
Preload sitemap
Cache preload
Google Fonts Optimization
Delay loading of JS files
DNS Prefetching
Compatibility with Google Analytics, Facebook Pixel, Cloudflare and Sucuri Protection Addition
What I like about WP Rocket?
What I like the most about WP Rocket is that it performs perfectly.
Accelerates load times, achieving an instant drop in page load time from 2.10 to 1.36 seconds, which is 54% faster
Additional features like Lazyload, image optimization, and database optimization make it very easy to keep websites fast and light.
I also always look for documentation attached with the plugins I use to help me understand the plugin and how it works, and get tips, guides, and tutorials in case I need help.
In the case of WP Rocket, the documentation that comes with the extension is comprehensive and useful enough to guide anyone on how to get started with the extension, how to solve common problems and other valuable information.
Also, WP Rocket is a constantly updated plugin (2-3 times per month) to eliminate bugs and improve performance, ensuring that it is always compatible with the latest WordPress version.
What I don't like about WP Rocket?
The only way to reach support is by opening a ticket or filling out their contact form.
I think it is better to provide a phone number or a live chat system on their official website to make getting to support faster and easier.
WP Rocket also does not offer a free trial subscription or free add-on which can be useful for people who want to learn how the extension works and if it is suitable.
But overall WP Rocket does a great job, and I would recommend it to anyone looking for an easy solution to improve the performance and speed of a slow website.
Conclusion
If you are looking for a sure and fast solution to keep your WordPress site faster and improve its performance, then WP Rocket is the best plugin you can get for your money.
Although it does not offer a free trial or free version, you can be sure that it is indeed one of the simplest and most effective WordPress caching plugins.
It also has important additional features that make optimizing your website's performance a lot easier.
If you're worried about who to pay for an add-on you're not sure about, you can take advantage of our 14-day money-back guarantee.
Overall, WP Rocket is suitable for anyone looking for a powerful and reliable WordPress caching management plugin.
Other free WordPress caching plugins are available, but they are more difficult to use and do not provide technical support that you can turn to in the event of a problem that needs a quick solution.