Are you wondering if it is possible to send SMS text messages to your subscribers?
Answer: Yes..
You can easily send text messages to your site users using a WordPress plugin.
There are many add-ons and programs that enable you to use the SMS sending feature on your site.
In this article, we will show you in detail one of the best ways to send SMS messages to your WordPress site users step by step.
Why is it important to send text messages to your site visitors?
Sending SMS messages can be very effective in getting customers back to your website.
Particularly when used in conjunction with other marketing tools such as email newsletters and push notifications.
Text messages have high conversion rates (they are often opened and read by users).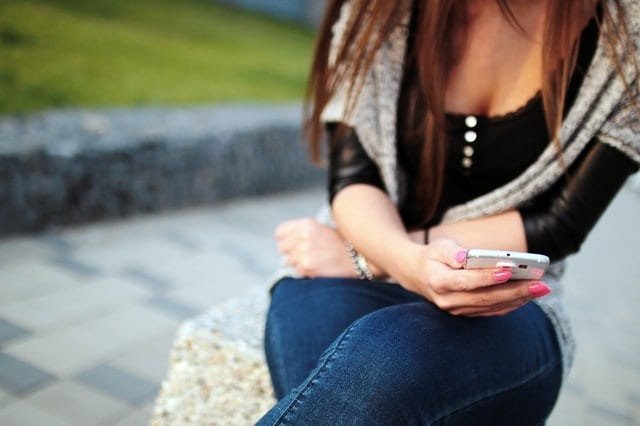 Some studies show SMS open rates as high as 98%.
Compare that to a typical open rate of just 20% for emails, and you can see why SMS has become a preferred marketing medium.
People check text messages much more quickly than they check emails.
It takes an average of 90 seconds to reply to a text message and 90 minutes to reply to an email.
Of course we don't want to overdo it because even when signing up for your site most users won't want to receive daily text messages from you, even weekly may be too much.
Important note: Make sure you abide by the law, as most countries have different legal requirements for text messages, especially marketing messages.
You may also want to use SMS messages in your online store to send invoices or to update orders.
We'll go over how to do this later in this article.
Send SMS text messages with Sendinblue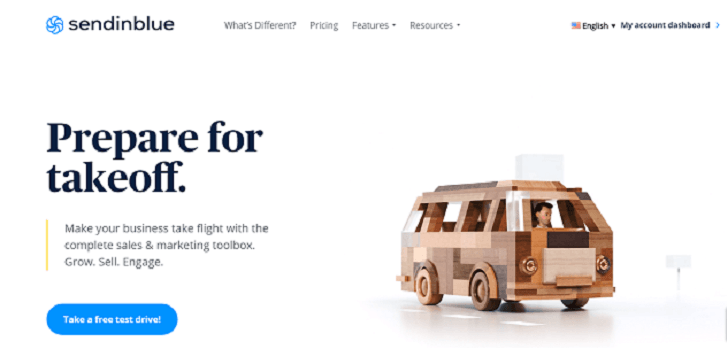 Sendinblue is an email marketing service that also allows you to send SMS messages to your subscribers.
To get started, you'll need to create an account at Sendinblue ..
If you do not already have a Sendinblue account, click on the "Free Sign Up" button to start creating your account.
Once you have completed the account setup process, you will see your Sendinblue dashboard.
If you did not complete your profile during setup, you will be prompted here..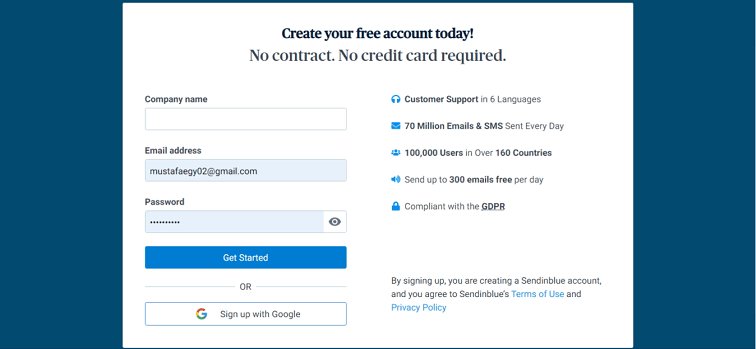 Once your account is created, you will receive an email from Sendinblue to activate the account.
Buy SMS credit for your Sendinblue account
You can then directly start creating an SMS campaign in Sendinblue.
First: Press the (+) button in the Sendinblue dashboard menu to go to the Applications and Integrations page.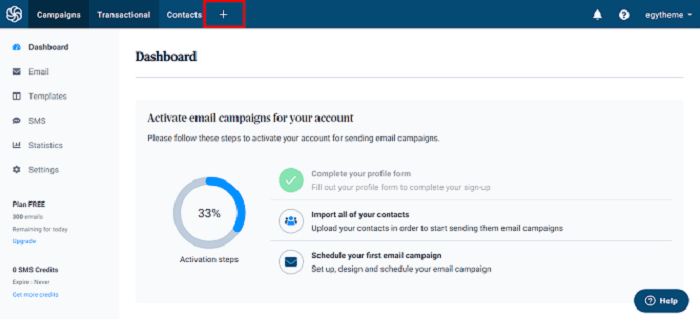 Then scroll down the page to find the "SMS Campaigns" window and hit the scroll button to start the SMS campaign.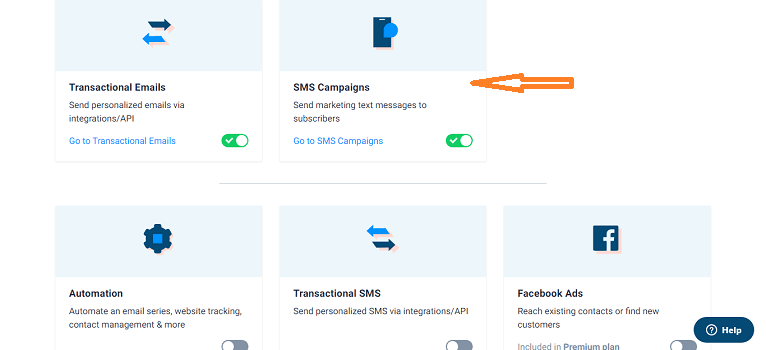 After that, you will need to purchase SMS credit in the Sendinblue dashboard
First you will see "0 SMS Credits" on the left side of the screen, you need to click on the "Get more credits" link to buy SMS credit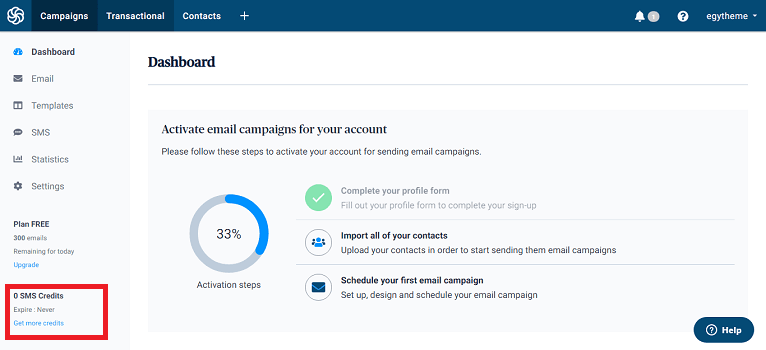 You will be taken to the "My Plan" page in the dashboard.
And in the "SMS Credit" section, click on the "Get more SMS credit" link.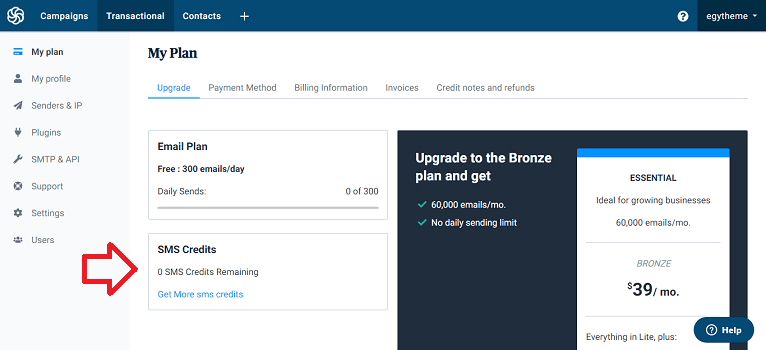 By default Sendinblue sells you 100 credits at a time, and you can select to buy fewer or more units.
The number of text messages and the price of 100 credits varies by country.
For example, in the United States, the price of 100 units is $1.14 and allows you to send 100 SMS messages
In Egypt, the price of 100 units is $8.69 and allows you to send about 763 SMS messages
You can choose the number of SMS credits you want, then complete the purchase.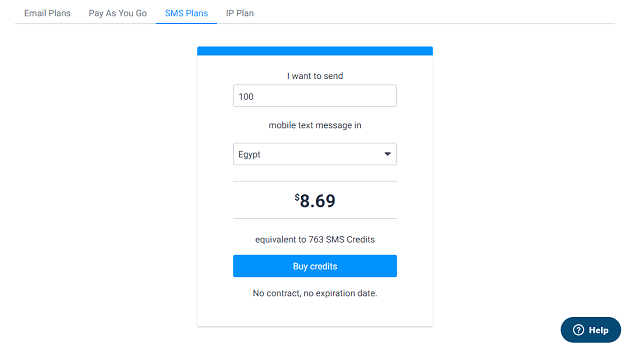 Once your credit has been purchased, you may need to wait up to 48 hours for it to appear in your account.
You may also receive an email from Sendinblue asking you for more details about your business, and the type of SMS marketing you plan to do.
This is to help you comply with the laws regarding sending SMS.
You will need to answer them with answers to their questions before you can add any credit to your account.
Create a marketing list using SMS
To send SMS messages you will need to import your contact list.
You can do this by going to the Contacts tab in the Sendinblue dashboard and then clicking on the "Import Contacts" button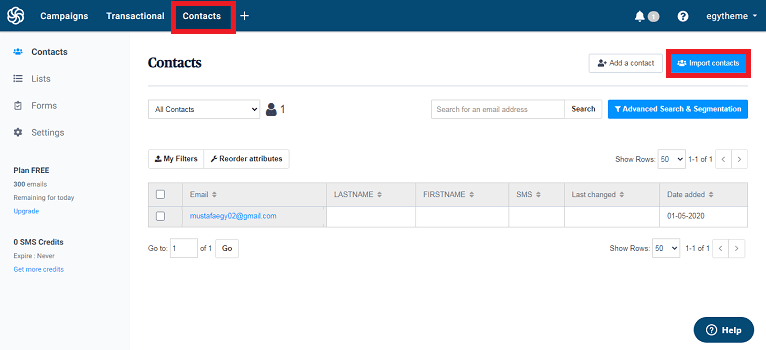 You can either download the csv file from your computer, or you can copy and paste the contacts one by one.
Whichever option you choose, Sendinblue provides examples to help you.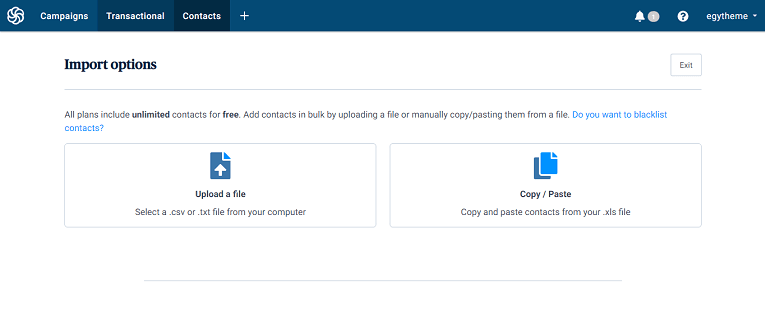 Important Note: Users first need to sign up for SMS Marketing on your site.
You can collect the phone numbers of your website visitors, and agree to receive marketing SMS messages using a WordPress plugin like WPForms.
Create your first SMS campaign
Once your SMS Balance appears and your Sendinblue account is approved you can start sending messages.
First, you will need to add a test contact so you can test your SMS campaign.
Simply, go to the Contacts section of the Control Panel, then click on the "Add Contact" button.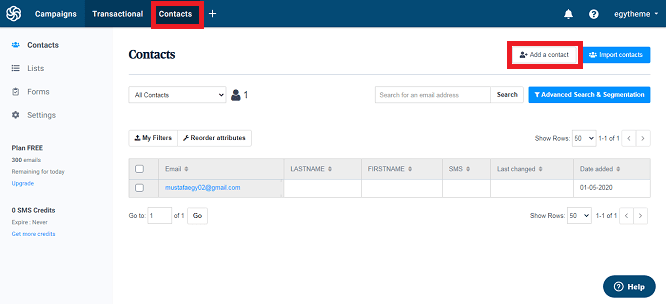 Next, fill in your details including your email and mobile phone number.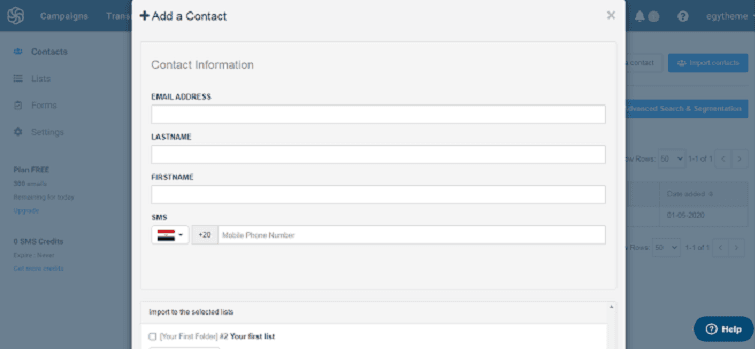 Then you can either add a test contact to the existing list, or you can create a new contact.

Once you do that, hit "Save and Close" and you should see a message telling you that the subscriber has been added successfully.
When you add SMS credit to your account, you can test sending a text message.
First, go to the SMS tab in the Sendinblue control panel
Next, click on the "Create First SMS Campaign" button.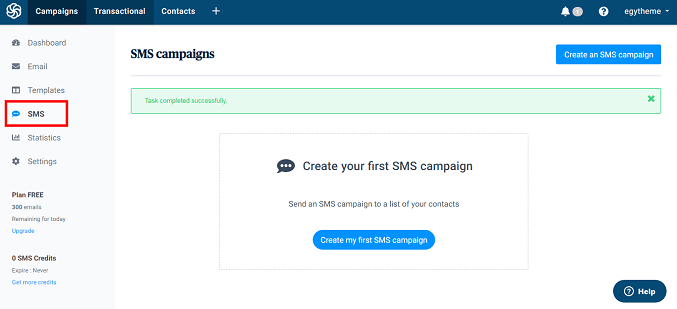 You can enter any name for your campaign where recipients will not see that name.
You must also enter the name of the SMS sender. This will be shown to users in certain countries.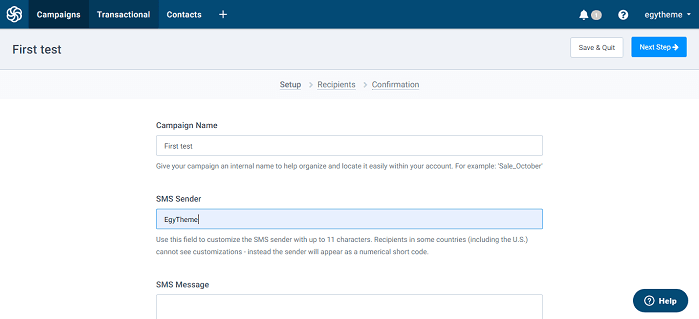 After that type your SMS into the message box, and at the bottom you can see how many characters you have used and how many text messages will be sent.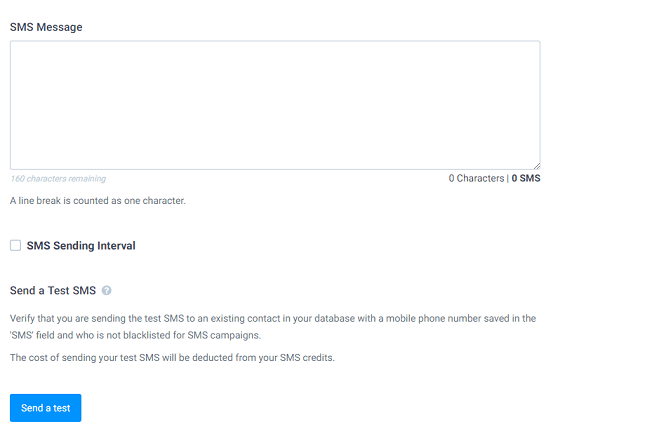 After you have finished writing the message, at the bottom of the screen click on the "Send Test" button.
Then a pop-up box will appear, enter your mobile phone number that you included when you added yourself as a contact previously.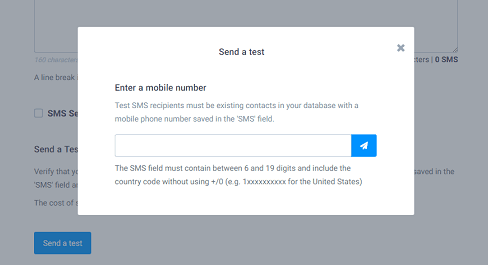 You should see a popup telling you that your test message has been sent successfully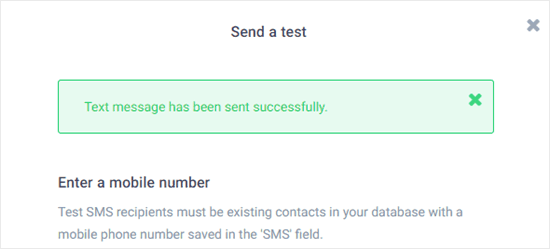 Now you have to check your phone to make sure you get the message..
If you don't get the text message directly, wait for a while, and if it doesn't, double-check that you're using the correct phone number.
Once you know that everything is working fine, you can proceed with setting up your marketing campaigns.
Now click on the "Next Step" button at the top right of the screen.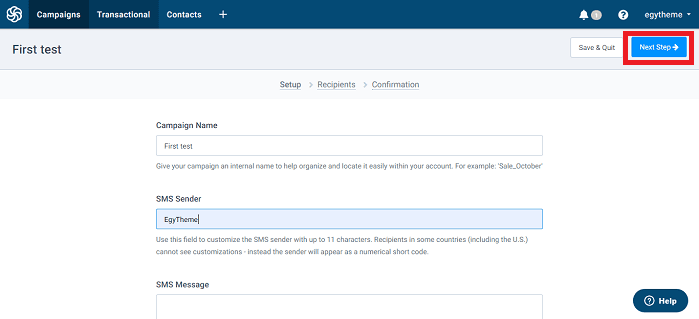 Now you will need to choose your contact list(s).
Check all the lists you want to use, then press the "Next Step" button.
That's all you have to do!
Your SMS campaign is now ready to be sent.
You can review the details and modify them if you wish, and once you are ready press the button "scheduling" at the top right of the screen.

You can either schedule the campaign to send text messages at a specific time, or you can send them right away.
Important: Avoid texting early in the morning or late at night, and be aware of the time difference between time zones as well.
sending messages SMS shop customers WooCommerce
What if you want to send notifications to your online store customers about their orders?
If you have decided Start an online storeYou may want to send text updates as well as email messages to your customers.
The easiest and best way to do this is to use an extension like "YITH WooCommerce SMS Notifications"
This add-on allows you to use a service like Twilio To send SMS messages to your customers.
These messages are sent, for example, when the status of the order changes, such as when it is sent or when there is a change in shipping dates, for example.
You can set up add YITH WooCommerce SMS Notifications until the service is enabled for all your store customers, or customers are allowed to subscribe to this service on your site.
Also, you can use it to get SMS notifications to yourself about new orders on your store.
This makes it easy to stay on top of your business if you are away from your computer.
As we mentioned, there are some other add-ons that can help you send SMS messages on your site, such as the famous add-on WP-SMS On the official WordPress website.
But today I shared with you the easiest and most effective way from my point of view.
In the end, we hope that this article helped you learn how to send SMS messages to users of your WordPress site.
If you have any questions, leave them in the comments below the article, and I will be happy to answer them.