SiteGround Hosting is one of the largest web hosting companies and among the highest rated hosting services in the world today.
Premium hosting provides many solutions to make your site as fast and secure as possible.
SiteGround hosting is known for the best 24/7 support.
SiteGround offers a variety of hosting plans, with built-in cache, free email and more.
It is also one of the few companies that offer web hosting with 3 different data centers around the world (in the USA, Europe and Asia) to help your site load faster than anywhere in the world.
It is for these reasons that SiteGround is a powerful and official hosting service Recommended by "WordPress"
About SiteGround

SiteGround was founded in 2004..it has since grown to become one of the most popular global hosting companies.
It is headquartered in Sofia / Bulgaria.. It has offices in 6 different locations and data centers on three continents.
Today SiteGround hosts over 2,000,000 websites worldwide!
SiteGround Pros and Cons
Each hosting company has its pros and cons, and before making any decision you might want to review the pros and cons of SiteGround hosting.
First: SiteGround Hosting Features
Here are some of the features that make SiteGround one of the best hosting companies in the world.
Ultra-fast servers: All SiteGround servers are highly optimized for speed, and are equipped with the latest hardware such as SSD drives as well as dedicated software to make sure your site is fast and secure.
Strong technical support: SiteGround's technical support service is very special, they offer 24/7 support through live chat or email.
CDN and testimony SSL Free: SiteGround offers instant setup of Cloudflare's free CDN service and a free SSL certificate from Let's Encrypt.
The possibility of choosing where to host your site: They have data centers in three continents: North America, Europe and Asia.. You can choose the location of the data center you prefer while subscribing to the hosting service, where you can choose the server closest to your visitors, which increases the speed of loading the site on their browsers.
Money Back Guarantee: SiteGround has a 30-day money-back guarantee if you are not satisfied with the service or for any other reason.
Second: Disadvantages of SiteGround hosting
As mentioned earlier, there are some negatives with every hosting company, and these are some of the disadvantages of SiteGround hosting:
Limited Storage: All SiteGround hosting plans come with limited storage space, however this space is quite enough for modern and small sites, and if you are starting out you won't need additional storage soon.
Increased hosting prices with monthly billing: There is a setup fee of $14.95 if you choose to subscribe to the monthly billing system, but if you sign up for a longer period you will get a bigger discount and no setup fee "so it is better to choose a longer subscription period"
Do not offer a free domain name: None of the SiteGround hosting plans include a free domain name like some other hosting companies.
The most important things to consider when choosing to host your site
the performance: How fast does your site load with SiteGround? Speed ​​is critical to the success of your website.
Reliability: Will your site be available 24/7 without any downtime?
Technical support: Can you rely on the technical support service to face any problem or answer any inquiry?
Additional Features: Do they offer all the features and tools you will need to build your website?
the prices: How much will hosting cost you? And do they have any plans that can save you money?
Now let's see if these things are available in SiteGround hosting.
First: Hosting performance SiteGround
While price often plays an important role when choosing to host your site, at the same time you can't compromise on performance.
That's why we decided to run special tests to thoroughly review SiteGround's performance.
Below are the results of the hosting speed test SiteGround:
Speed ​​is one of the most important performance metrics you should look for.
A faster website provides a good user experience and boosts SEO at the same time.
In fact a 1 second delay can cause a 7% drop in conversions, an 11% drop in pageviews, and a 16% drop in customer satisfaction!!

We have created a test WordPress site on SiteGround hosting and we have added mock content with some images as well.
Next, we used a website speed test tool Pingdom to take the tests.
(Note: This test was done in the USA)
These are the results we got:

As you can see: our test site loaded in less than a second (649 milliseconds to be exact) to a server in Dallas/Texas.
This is very good.. but as you know this site is new and it had almost no traffic.
So the Pingdom test alone is not enough.
To test how SiteGround servers respond to increased traffic we used a tool called LoadImpact.
This tool gradually sends up to 100 fake users to see how the server responds to increased traffic from multiple connections at the same time.
You can see the results in the graph below.

The blue line is the number of active virtual users on the site, and the green line is the server load time.
SiteGround's performance has been pretty consistent except for a sudden spike when there were 50 users on the site.
It was recovered quickly and the page load time remained consistently low even as the number of users increased.
This test shows that if you are looking for a fast website, SiteGround hosting can be an ideal choice.
Second: server response time SiteGround
Site content greatly affects page load time.
For example, if you have high-resolution images on the page, this will significantly increase the page load time.
This means that speed test results may not accurately reflect how fast your hosting server is.
Instead of just analyzing the page load time, we decided to test the actual server response time as well.
To do this we used a tool called Bitcatcha.
This tool ignores the page content and only tests the server response time, it also gives you the average loading speed from different global sites.
Each site's speed is measured three separate times using three different metrics, and the results are then averaged.
Take a look at the results in the screenshot below.

As you can see, SiteGround is a great option if your target audience is located in the USA where the server responded in a split second.
And the server responded in less than a second for all sites except Japan..
If your target audience is located in and around Japan, you can ask SiteGround to move your site to an Asian data center, or opt for this feature from the start with a subscription.
Third: Types of hosting in SiteGround
SiteGround offers shared hosting, WordPress hosting, cloud hosting, and dedicated hosting.
If you want to get started then their shared hosting plans will be a perfect fit for your needs.
As your site grows, they have higher hosting plans that you can upgrade to at any time.
Now let's learn about the different types of hosting at SiteGround and the features of each one.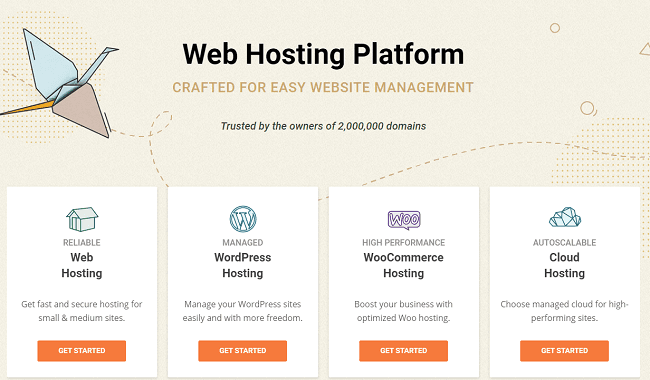 1- Shared hosting: Shared hosting is recommended for small websites and newbies.
It is suitable for low-traffic websites where you will share resources with other websites hosted on the same server.
2- Hosting WordPress: This plan is an improved version of the shared hosting plan.
It is a dedicated WordPress hosting where you can install it with a click of a button, and it is configured to improve the performance of WordPress sites in terms of speed and support.
3- WooCommerce Hosting: Dedicated e-commerce hosting, which allows you to create an online store using WooCommerce easily with many features and characteristics that facilitate the e-commerce process
4- Cloud Hosting: Cloud hosting is a flexible upgrade to shared hosting.
It allows you to use multiple server resources on a cloud, and is suitable for large websites and online stores visited by millions of users.
SiteGround Shared Hosting Plans Details
SiteGround shared hosting is the best way to start a new website.
Shared hosting plans are available in three levels to suit different budgets, as follows: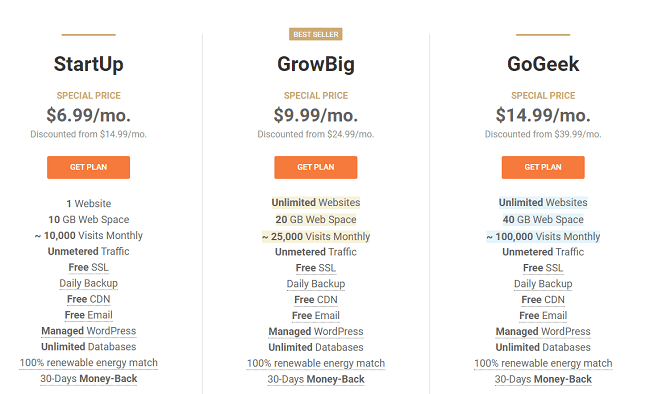 at $6.99 / monthly This plan is limited to hosting one website.
It has a disk space of 10 GB and is suitable for hosting a website with a capacity of 10,000 visitors per month.
You will also get all the essential features like quick WordPress installation, free setup, daily backup, SSL certificate and more.
at $9.99 / monthly It allows you to host an unlimited number of websites.
It comes with 20 GB disk space and is suitable for hosting websites with a maximum of 25,000 visitors per month.
You will get all the features of the StartUp plan plus you will get other benefits like Dynamic Caching service and SSD wildcard free for one year with more benefits.
Priced at $14.99 / monthly …and it is suitable for large e-commerce sites.
It can handle a maximum of 100,000 visitors per month.
The hosting plan also accommodates an unlimited number of websites with 40 GB disk space.
In addition to all the features of the GrowBig plan you will get more advanced features such as SG-Git repo, Speed ​​Caching, one-click WordPress launch, advanced support priority and more..
Subscribe to shared hosting from this link
Technical support and customer service
SiteGround technical support and customer service are remarkably good at providing fast and helpful support and assistance to their customers.
Customer support includes 24/7 service, live chat feature, and email support.
Answering the phone and live chatting is almost instant.
A support request by e-mail receives the first response in less than 10 minutes.
For users who prefer to fix things themselves, SiteGround offers a large selection of how-to articles in the knowledge base of the official website with screenshots, videos, and tutorials.
Conclusion: Is SiteGround the Right Choice for You?
After reading our detailed SiteGround review you may still be wondering if it is the right choice for hosting your site!
If you want a fast and reliable hosting service with great customer support then SiteGround is for you.
SiteGround has hosting plans for every budget and each plan comes with an impressive set of features.
All shared hosting plans include SSD storage and easy SSL certificate setup.
Also, the free Cloudflare CDN service, one-click WordPress installation, and free migration of your site from any other hosting are among the most prominent features of SiteGround hosting.
If you are starting a website for the first time then you will definitely appreciate SiteGround customer support.
Ready to get started with SiteGround hosting? Click here to choose the right hosting plan for you
Or share your opinion and questions about SiteGround with us in the comments below the article.