Are you looking for a unique WordPress theme for your new online store? Or maybe you want to change the look and characteristics of your existing store?
Well.. today we are going to learn about one of the best and most popular WooCommerce WordPress themes.
Today I will talk about WoodMart . template Which contains a wide range of great features that make it one of the most popular WordPress templates for e-stores on the site Themeforest
Where was the template purchased? 27,281 Once, it has a special rating of 4.94 / 5
Woodmart template helps you design your online store efficiently in the least time, as the template provides a lot of ready-made templates (+60 Demo) that will enable you to get a professional online store in just a few minutes.
In today's Woodmart template review, you will get a complete knowledge of the most important features of the template, as well as some tips to help you take advantage of it and customize it according to your needs.
Who Should Use Woodmart Template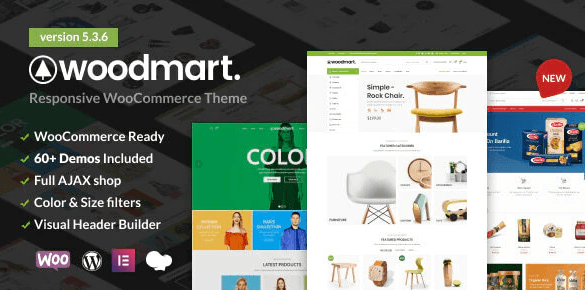 If you want to have an attractive looking online store using WordPress and WooCommerce then Woodmart theme will be very suitable.
The template contains some powerful features that enable you to fully control the settings of the template and take advantage of all the features and functions available.
You will have the ability to customize all parts of the online store without the need for any programming skills, starting from the design of the header or header, through the way the products are presented, to the footer or the invoice.
If you want to design your store yourself and don't have knowledge of programming languages ​​and don't want to use a web developer, Woodmart template will be very suitable.
As we mentioned, the template is easy to use and does not require any special technical skills so that you can launch an integrated online store yourself in record time.
Woodmart theme is also suitable for you if you are looking for a fast WordPress theme that is compatible with different screen sizes, and suitable for search engine standards or what is known as SEO.
You can be sure that Woodmart template provides all these features and more, it is an ideal template for creating any type of website in general.
Creating a fully functional online store can be quick and easy with Woodmart template.
So let's start exploring this great template and get to know its most important features and characteristics through today's review.
Features of Woodmart Template
Powerful template control panel.
Fully customizable.
Responsive and fast design.
Optimized for search engines.
Powerful AJAX Features for Online Stores.
More than 60 different online store designs.
Advanced Variable Products feature.
Drag-and-drop header builder.
Supports Arabic and all RTL languages.
Supports all WordPress plugins to create a multi-vendor store.
The template comes with some paid plugins.
And many other great features.
After we quickly learned about the most important features of the WoodMart template, we will now discuss each of them in detail.
1- Powerful control panel
WoodMart template gives you a powerful control panel that enables you to fully control all settings and features of the template with ease and without any technical or programming skills.
WoodMart is an advanced template, light and fast, the control panel allows you to use a large number of plugins needed to control the functions of the template.
In order to be able to customize your site as you want, the template control panel gives you a smooth user interface to easily make the necessary changes in the least time.
2- Fully customizable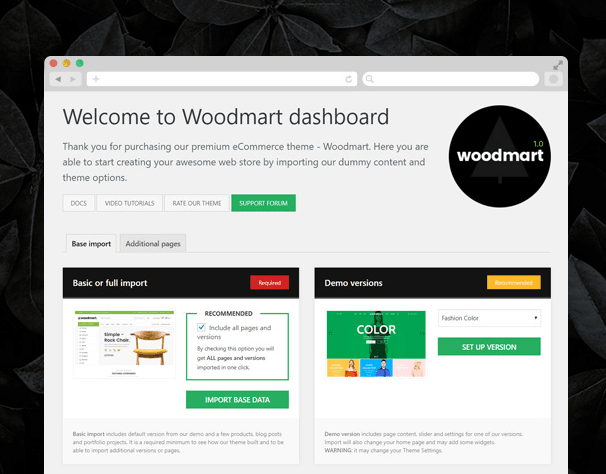 WoodMart Template provides you with a fully customizable online store to easily suit your needs.
You can change the fonts and colors to suit your branding, change the way products are displayed, different pages and menus, etc..
All of these settings can be accessed through the default WordPress customization panel.
3- Responsive and fast design
WoodMart template features a responsive and flexible design that automatically adapts to the size of the device it is being viewed on.
This ensures that your online store will look and feel on all different devices and screen sizes – like computers, smartphones, and tablets.
This provides a perfect user experience for all users, especially mobile phone users.
4- Optimized for search engines
SEO is probably one of the most popular words in the field, but it simply means that your website needs to be programmed in a certain way so that search engines like Google and Bing can easily find and archive it, thus ranking better in search results.
This means programming with clean, well-designed, bug-free code that supports all popular SEO plugins that give you more control over using the right metadata in the right place.
5- Advantages of AJAX for online stores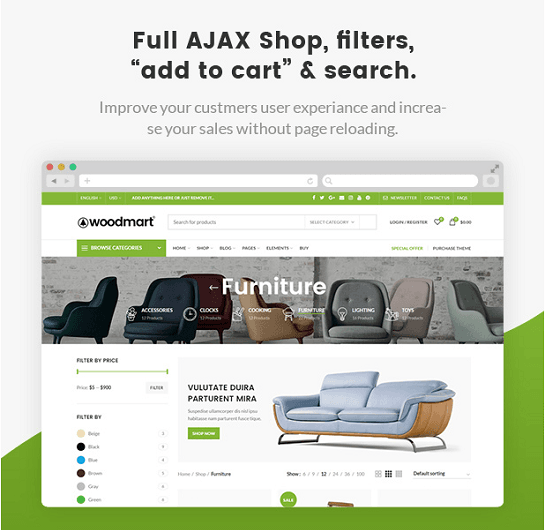 AJAX or Asynchronous Javascript and XML​ It is a set of technologies used in the field of web development that allow your website pages to connect to the server without reloading the page.
This feature means that while users are searching in different product categories or when changing the displayed product while shopping, the page will not reload every time.
Which provides your store customers with a faster and better use experience in the world of development and speed that technology has reached today.
6- More than 60 different online store designs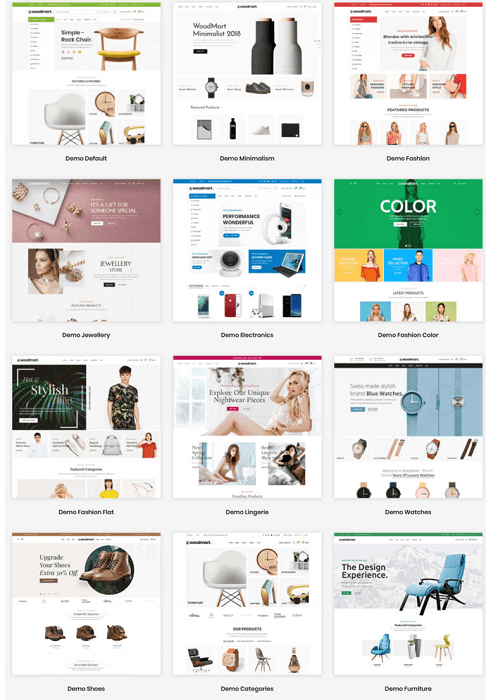 WoodMart template offers a great set of ready-made templates that you can use right away to start your online store.
With the WoodMart template package, you'll find more than 60 templates for different types of websites that you can choose from and import what you like with the click of a button.
Surely you can use WoodMart for any kind of electronic store like furniture, fashion, electronics, watches, eyeglasses, shoes, jewelry, cosmetics and many more..
The template is also suitable for corporate and e-magazine websites, and you can use it without the WooCommerce e-commerce extension.
7- Advanced Variable Products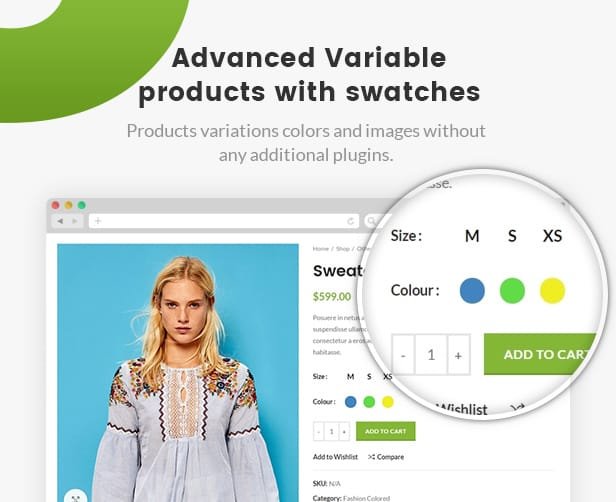 Being able to apply multiple variants or different product samples to your store is a must for many online store owners.
The WoodMart template has been enhanced by allowing you to have a single menu that enables you to display many different colors or sizes and weights for a single product.
This gives your store more depth with each product being able to have multiple shapes and types to choose from.
And products are added to the cart with the click of a button, without reloading the page or waiting for it to be refreshed.
8- Drag and Drop Header Builder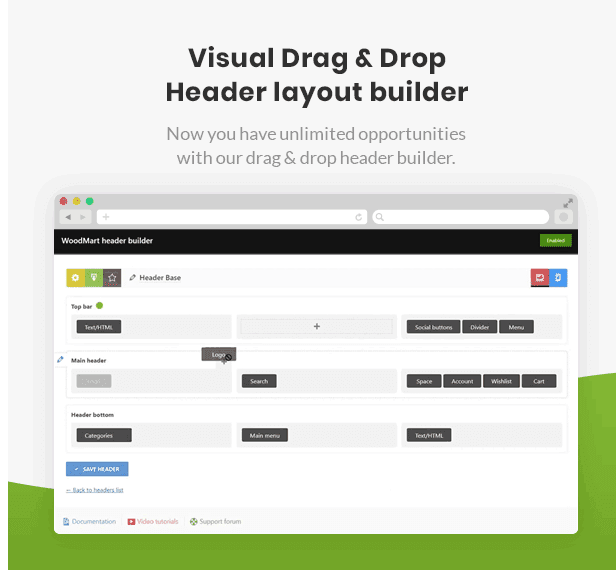 WoodMart template in recent releases provides a "Drag & Drop" header builder
This gives you complete control over the header design of your web pages by dragging and dropping the blocks where you want them.
You can also update the header background look, colors, fonts, and more, with a simple user interface that anyone can use to create a professional header in minutes.
9- Supports Arabic and all RTL languages
Few of the WordPress e-store themes offer RTL or right-to-left writing.
Perhaps this is one of the most important features of the WoodMart template, which makes it popular in the Arab world as well.
Where you can easily create an online store in Arabic or even a multilingual online store.
10- Supports WordPress plugins to create a multi-vendor store
WoodMart template supports almost all WordPress plugins to create a multi-vendor online store such as Amazon, Souq, and others.
Among the most popular of these additions are:
Dokan
WCFM Marketplace
YITH Multi Vendor
WC Marketplace
WC Vendors
11- The template comes with some paid add-ons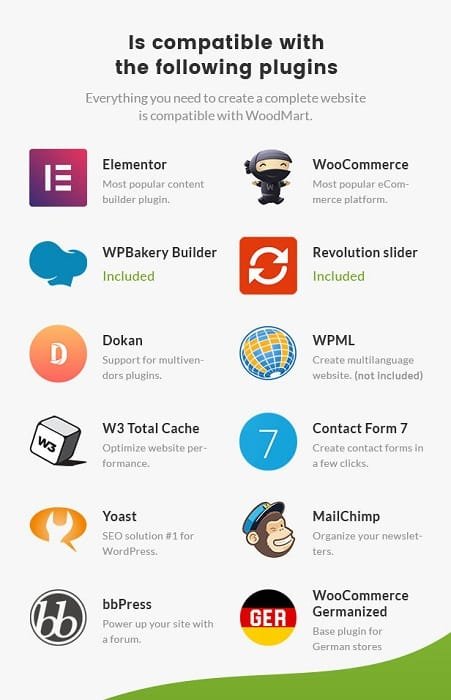 The template provides you with some paid add-ons that you get for free with the template files package such as:
WPBakery Page Builder Build and design pages with drag and drop functionality.
Revolution Slider to add product photo galleries and other presentation banners in a unique way.
It is also compatible with many other important add-ons such as:
Elementor is the most popular WordPress plugin for creating pages.
Dokan is a great add-on for creating a multi-vendor online store.
WPML The most popular WordPress plugin for creating a multilingual website.
Yoast SEO plugin for WordPress sites.
bbPress is an addon that helps you create a forum or a social networking site within your store.
And other add-ons.
Some other features and characteristics of Woodmart template
The ability to log into your online store through users' social media accounts.
Using advanced AJAX functions, product search results are available in a full-screen pop-up, as well as the feature to purchase the product without leaving the page.
When you purchase a template from Themeforest website, you get lifetime template updates, and 6 months of free technical support.
Various product page designs are available to make sure your online store is unique and unique.
You can easily create mega sliding lists by dragging and dropping.
Woodmart Mold Price
You can buy Woodmart template from the official website Themeforest
The price includes lifetime template updates and 6 months of technical support (subject to additional charges)
---
Conclusion
WoodMart theme is one of the most popular and highly rated WordPress themes for e-commerce as well.
This is because it offers a wide range of functions and customization options that facilitate the process of creating a complete online store.
The template has been recently optimized for performance due to the powerful AJAX technology that affects page load time and overall user experience.
WoodMart template is intended to help you create almost any type of website, as the dashboard allows you to quickly and easily make necessary design adjustments.
According to user reviews, WoodMart is a template that deserves your attention, as it allows you to create a unique and modern online store.
Get started today with a WoodMart template Launch your online store in just a few minutes.