Publisher template is one of the best multipurpose WordPress themes for creating a blog, news website, or even an online store!
In this detailed review, you will learn about a number of great features and options for the Publisher template developed by the Better Studio team.
Do you want to professionalize blogging and create a distinctive blog and profit from it?
If your answer is "yes", I highly recommend you take a look at this amazing and unique template.
Today, I'm going to share with you my personal experience with the Publisher template and an overview of the main advantages and disadvantages of the template.
After previewing nearly 50 different templates, I chose the Publisher template for my blog, which is one of the best templates for a professional WordPress blog.
Before I start reviewing the Publisher template I would like to share one thing about WordPress templates..
Never rely on a free template if you want to create a professional blog and profit from it. If we compare free templates with paid templates, there is certainly a very big difference in favor of paid templates, of course.
Choosing the perfect template for your dream website is an important decision because it will determine the functionality and look of your site.
The more a template has features and multiple customization options, the more things you can do in the right way.
How to choose a good WordPress theme for your blog
The template should have some basic and powerful features such as:
Good and distinctive design.
AMP feature to support the speed of website pages on the phone.
The template should be light and optimized for search engines.
Responsive template for all types of screens.
Ensure updates and quality support after purchase.
And finally the price of the mold.
Most of the WordPress newsletter and blog themes are mostly the same, but the Publisher theme has some great features and exclusive plugins that make blogging fun and easy.
So I am here today to tell you the reasons why you should choose the Publisher template, and the most important features available in the template that make your blog unique and successful.
Publisher Template Features
Here are some of the most important features that push you to buy a Publisher template for your new blog:
1- It supports Arabic language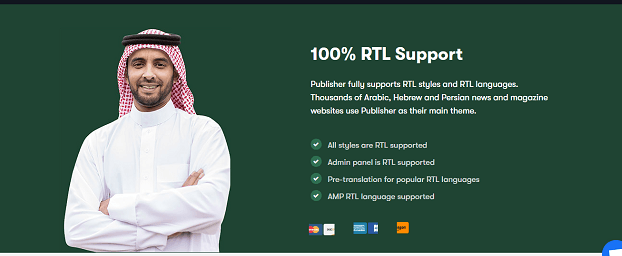 The most important and best feature of the Publisher template is that it fully supports Arabic and all RTL languages.
Of course, this is a great advantage for Arab bloggers and blogs in the Arabic language, as there is no need to localize or translate the template that supports more than 30 different languages.
2- Powerful multiple options
The Publisher template comes with many customization options, which thus provide many ways to modify the look and functionality of the template through the control panel that lets you manage everything easily.
3- AMP and instant articles feature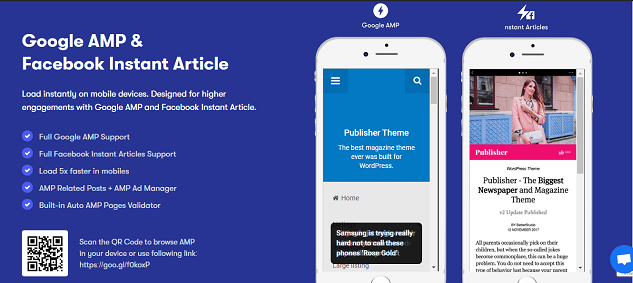 Google AMP stands for Accelerated Mobile Page, this feature makes your site faster because it removes unwanted CSS and text.
Google AMP pages are very lightweight for browsers, which makes your site load 5 times faster.
The Publisher template uses the Better AMP . plug-in
One of the great advantages of Better AMP is that it also offers you to display ads in your pages easily.
While there are many free AMP plugins available, they only allow ads to be shown in their paid version.
4- Inspirational quote boxes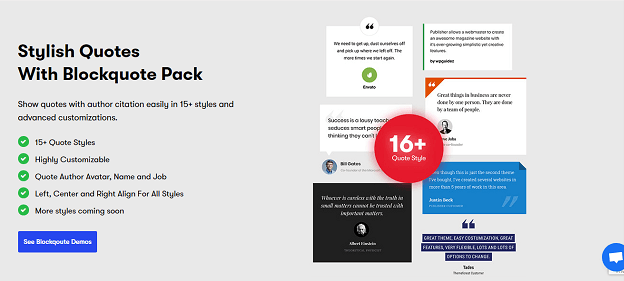 You can add various shapes of inspirational quote boxes of famous people on your blog, it will definitely make your blog more unique and creative.
Publisher template comes with more than 15 different styles of quote boxes that you can easily add to your posts and make your articles and website posts more motivational.
5- Smart menus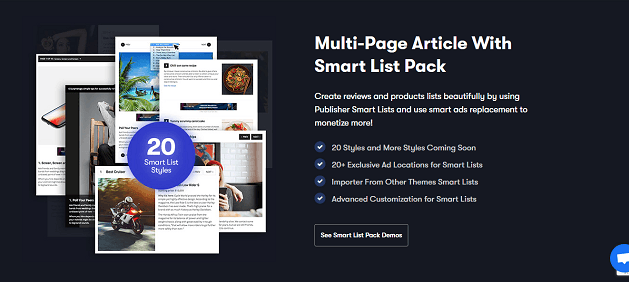 If your articles are too long and contain many sections, you can divide this long, boring post into several lists and in different formats.
That's why the Publisher template has an option to show your content as lists, and it has 20 different list styles.
It gives you a special options panel to configure the menu in more detail and select the appropriate style.
You can also include ads in the menu content.
6- Generating income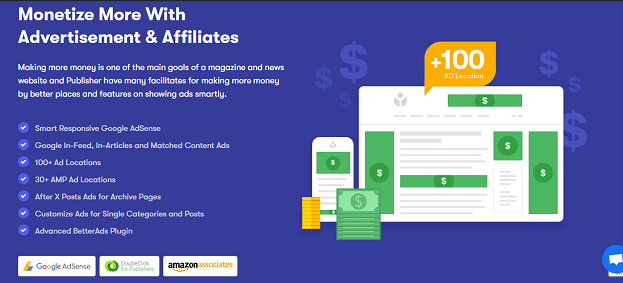 Sometimes profit can be a main objective of our website, where you can earn some money by advertising.
Publisher template offers more than 100 ad placements, where you can place your ads in different places of the site.
It also comes withAds Blocker Fall Back" Which allows your ads to show even when your browser is using any ad blocking tool.
This enhances the strength of your site and improves its profits, and with the Better AMP extension you can adjust ads to appear on your pages when browsing through an AMP phone.
7- Postal subscription forms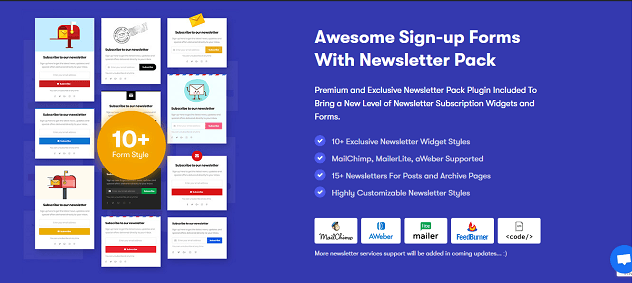 Publisher template comes with attractive and elegant forms to get users to sign up for mailing list, help you get more subscribers and followers on your site/blog.
The template comes with more than 10 different templates that can be placed in the sidebar or the footer area, and it also comes with more than 15 other templates that can be used inside posts so that the user while reading the post can become a subscriber to your site.
All of these forms can be edited and modified, and you can connect them with any email marketing services easily.
Below you can see one of these templates, you can enter your email and subscribe to my site if you like this post 🙂
8- Customize sidebar and footer items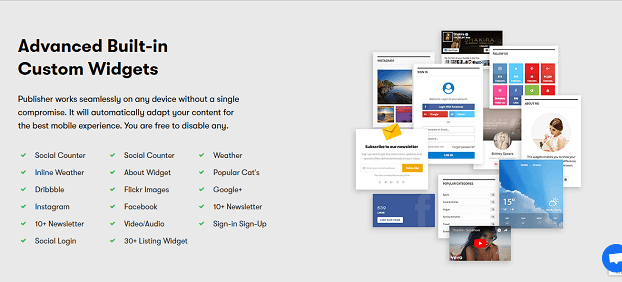 The Publisher template comes with more than 17 different widgets that you can place in the sidebar or footer.
They are all fully customizable and elegant that attract the visitor to take action.
One of the things I love most about the Publisher template is that it has a sticky sidebar, which enables you to show your visitors the widgets you select for longer on desktops.
9- Exclusive Extras
The template comes with a number of premium and exclusive plugins that you can only find in the Publisher template.
These plugins add more features to your blog and allow you to perform many new creative actions.
Publisher template contains more than 20 exclusive plugins, which save you both money and time.
With these plugins, you can perform various actions on your site.
If we calculate the value of these exclusive extras that come free with the template it will be over $200!!
10- High performance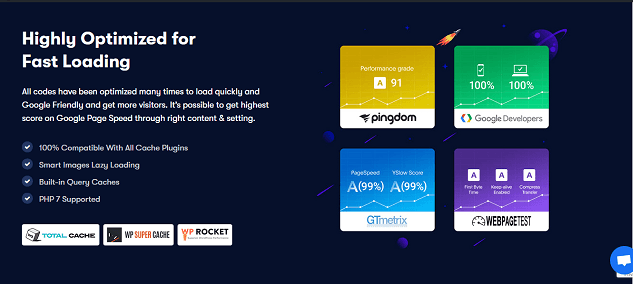 Publisher is a fast template, and all pages are Google-friendly and have a view-first-page preference.
To explore how quickly and improve the Publisher template you can run a speed test using tools like GtMetrix And Pingdom
11- Optimizer for search engines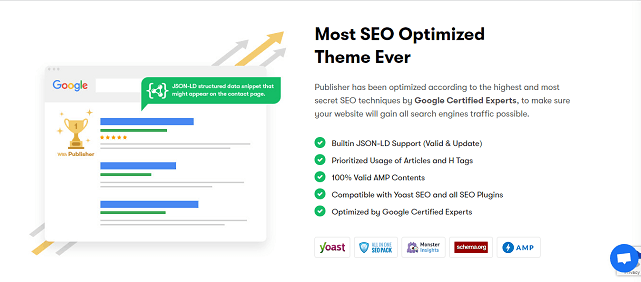 The best thing about the Publisher template is that it is designed with clean code, optimized and well optimized for search engines.
Schema data will be automatically added to your pages, and is one of the pivotal factors for a page's ranking in search engine results.
12- The price is good
Publisher template contains multiple pricing options divided into 4 different packages.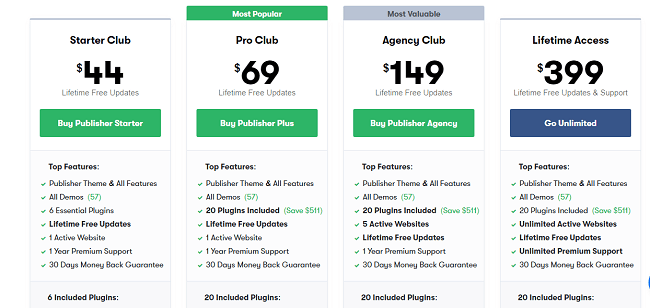 Each package contains:
The template and all its features.
All demos (Demos)
Lifetime updates.
One year support.
30 day money back guarantee.
Package 1: Starter Club
This package includes 6 basic add-ons, and you can use the license on one website only.
Price: $44 for life.
---
The second package: Pro Club
This package includes 20 basic add-ons, and you can use the license on one website only.
Price: $69 for life.
---
The third package: Agency Club
You can use this license on 5 websites with all add-ons and support.
Price: $149 for life.
---
Fourth Package: Lifetime Access
Here you get everything for life for $399, unlimited sites, unlimited support.
Some other features in the Publisher template
1- The mega menu option
2- Smart sticky menu
3- Sticky sidebar
4- Review system
5- Control panel with powerful options (Options panel)
6- More than 740 types of fonts (Google and custom fonts)
7- Smart search feature (Live and smart search)
8- Responsive theme for all screens
9- Social counter
10- The ability to create an online store easily using woocommerce
Notable Publisher Template Disadvantages
Poor support from the BetterStudio team is often the only drawback that you may encounter after purchasing a theme.
But don't worry, it's a popular and popular template, so you won't have any problems installing the template or adjusting its settings.
It will only require you to do a little research on the Internet, or use one of the relevant forums to solve any problem you may encounter.
Conclusion
Choosing the perfect WordPress theme is a bit tricky..but it is a pivotal step on the way to creating a successful blog.
The best template for blogging is the one that gives you the features needed to do more creativity, make blogging easier, increase the number of visitors, and generate profits.
Note: This post was created using some of the Publisher template features mentioned here
This is all about Publisher Template Which I personally use on my site, and I am very happy with it, and more confident with this great template that I would also advise you to use if you are looking for a good WordPress template to use as a magazine or blog.