Avada is one of the best selling WordPress themes in the world with over 630,000 copies sold on ThemeForest.
Although the template is very popular and popular in the WordPress community, many users do not fully know the features, pros and cons of the template.
This article aims to tell you everything about Avada template in detail so that you can decide if you need it or not.
While there are many users who prefer the Avada theme, there are others who have found alternatives that suit them better.
However, Avada is one of the best multi-purpose WordPress themes, as it suits a variety of website needs and requirements.
Read on to learn more about the template, its use, and its most important advantages and disadvantages.
What you will get when you buy Avada template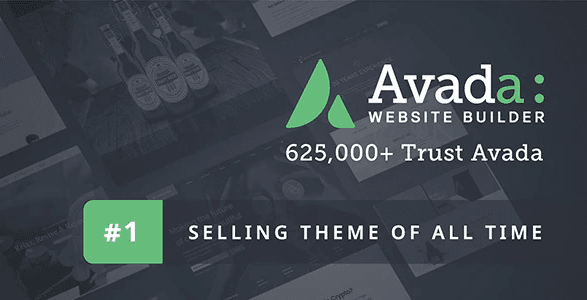 You can buy Avada template from ThemeForest …and get an unlimited license that allows you to use the template on a single website.
The license includes six months of support from ThemeFusion..
If you encounter a problem while using the template, you can find comprehensive documentation on various topics in Avada Docs that will answer most of the questions related to the template.
Get the full Avada template package
After completing your purchase and from your ThemeForest account you can download the complete Avada template package and save it to your computer.
After unpacking the zip file you will find the child template as well as the base Avada template (more on this later)
Install the template and the included plugins
You can download and install the "Avada.zip" and "Avada-Child.zip" template files in your WordPress dashboard by:
Appearance >> Templates .. Then add new ..then activate the "Avada Child Theme" sub-theme
Advantages of installing sub-mold:
You can modify the CSS file of the sub-template as you like.
All template basic settings are saved in the sub-template.
PHP code plugins can be ingested in the functions.php file without being affected by any template updates.
After activating the "Avada Child Theme" you must activate the required plugins "Fusion Core" and "Fusion Builder" in the plugins area included with the theme.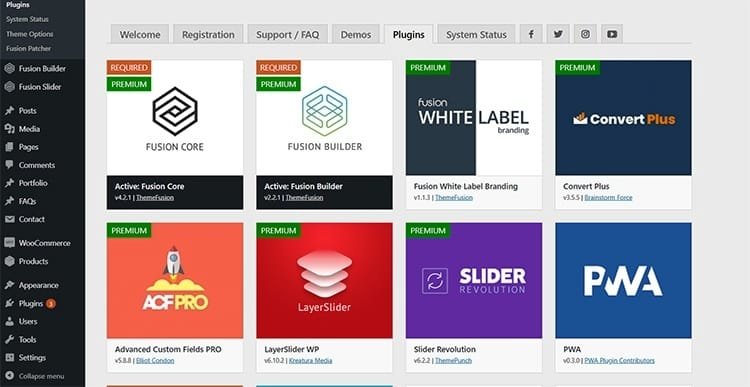 In the "Plugins" tab, you will find a set of paid and free WordPress plugins that you can activate if you want.
These plugins include Convert Plus, Advanced Custom Fields PRO, LayerSlider WP, Slider Revolution, and many more.
Avada template requirements
Since Avada theme offers a lot of functionality and is very resource intensive, you should make sure that your site is built on a solid hosting foundation.
Because if not, you will not be able to take full advantage of all the features of the template.
Good hosting will ensure that your site runs at optimum speed while you get the most out of Avada's theme features.
Now before you use Avada template.. here's something you need to know.
The minimum server requirements for Avada template are:
WordPress 4.6 – or higher
PHP 5.6 – or higher
MySQL 5.6 – or higher
Recommended PHP limitations and configuration are:
max_execution_time 180
Memory_limit 128M
post_max_size 32M
upload_max_filesize 32M
>> You can find more information about Avada template requirements from this link
Updates and support
To get updates and support for the Avada theme, you must activate the theme using a code (Serial Number) that you can get from your ThemeForest account.
Ready-made illustrations in Avada template
After installing the Avada theme on your WordPress site, you will have more than 60 demos available for different domains and types of websites to launch your site easily and quickly.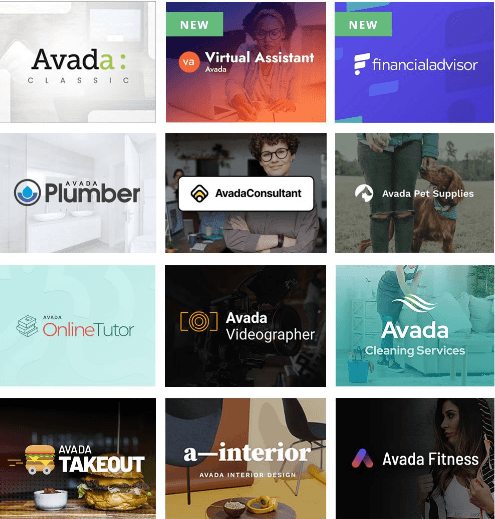 You can either install the demo completely or you can choose to install page by page.
However when importing these illustrations you should note that the images used are subject to copyright which means that you cannot use them on your website.
Avada template settings
Avada's multiple theme options are the biggest theme of the theme, and it's these options that make Avada one of the most popular themes in the WordPress community.
With the template options you can fully customize and configure your site.
You can control just about everything from the template options, from the fonts and colors to the design of the site and its pages, allowing you to create an entire website the way you want.
You have several options for making the necessary changes to the layout and appearance of the site via the template settings.
Which means that you have to go through enough training period to understand all the settings and get the most out of them.
You can see an overview of all the template options in Fusion Theme Options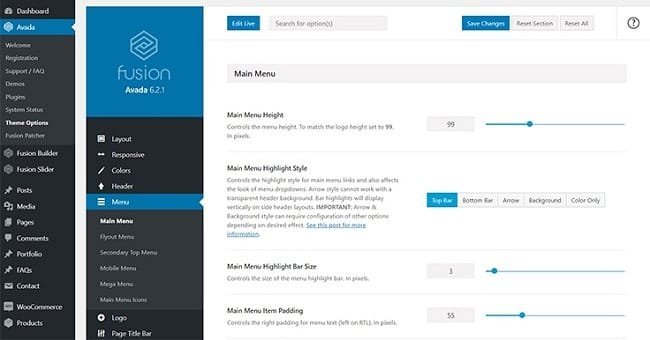 Fusion Builder
Avada comes with a dedicated page builder for building and designing pages and posts called Fusion Builder.
It enables you to create your website pages easily through the drag and drop feature, which means that you do not have to be an expert in programming languages ​​to create a website using Avada template.
Listing all the features of the template here would definitely go beyond the scope of a single article.
in a ThemeFusion You'll find an overview of the options that Fusion Builder offers.
Mobile Responsive Designs
In the column box you can specify whether to display only for smart devices (mobile phone or tablet) or only for desktop screens.
Which saves a lot of time when it comes to mobile-ready design.
Create, save and reuse templates
The entire page layout and individual elements can be saved in the Fusion Builder Library and reused at any time.
This saves you a lot of time, for example when it comes to recurring page elements or call-to-action (CTA) buttons and their links.
With the "Global Elements" add-on you can easily save multiple copies of the included elements.
Any changes you make will be applied to all copies at the same time.
improve the performance
In the template options there is also an option to improve the performance of your website.
You have options to resize images, CSS and JavaScript files, lazy loading images, font editing options, deactivate emoji scripts, and many more.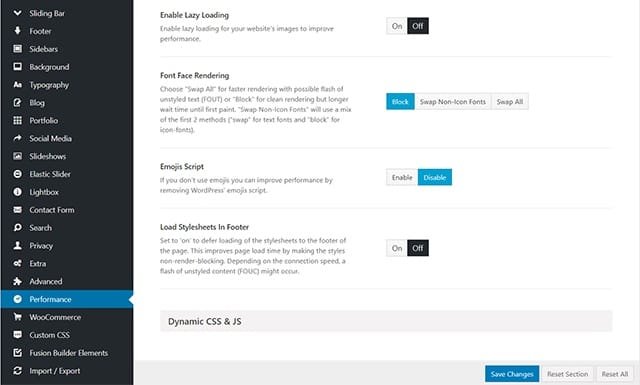 In addition to performance options, you should consider installing a caching extension if your hosting provider does not provide caching on their part.
Advantages and disadvantages of Avada template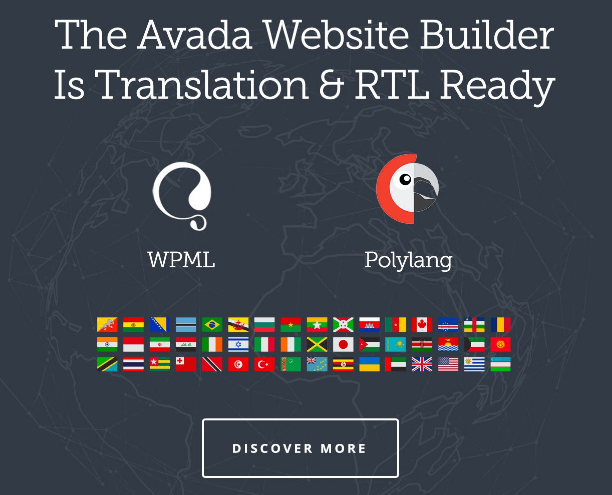 Features:
It supports the Arabic language and offers ready translation into more than 30 languages.
Unlimited design options to easily create a website.
Drag-and-drop page builder (Fusion Builder)
Several premium plugins are included including ACF Pro and Revolution Slider.
Integrated Cookie Notice for Data Protection.
Optionally disable unwanted texts.
Performance improvement options.
Lifetime free updates
6 months free support
Full compatibility with woocommerce extension to create an online store.
The integrated Mega Menu feature for navigating between pages on the site.
Advanced internal search options.
Compatibility with most WordPress plugins and includes 6 paid plugins for free.
Defects:
High requirements of hosting resources.
Requires a separate addition of caching for optimal performance.
The price can be relatively high for some users.
Difficulty changing the template later due to the link between the design of the site and the integrated addition with the template.
Not suitable for blogs and small websites.

Avada template price
Template is available for purchase ThemeForest
The price is 60 dollars
Includes lifetime access to template updates plus six months of support.
You can extend the support period to 12 months by paying an additional $17.63.
---
Conclusion
Avada template is very distinctive and provides you with many options and settings that enable you to create a website or online store in record time and without any experience or prior knowledge of programming languages.
To get the most out of Avada template you should make sure to spend some time learning the template settings.
Since the template is multipurpose, you won't be able to learn about all the functions without trying it out first.
Avada theme is ideal for large projects like companies and organizations, it is also a perfect WordPress theme for e-stores and it is fully compatible with Woocommerce plugin.
This means that bloggers and other small site owners may not be suitable for this template.
Have you ever used Avada template before? Or are you thinking of using it soon?
If you have any questions about using the Avada template..or if you want to share your experience with the template please leave your comment at the bottom of the article.