If you intend to create an e-commerce site, Flatsome template will be a good choice to create an integrated online store and run it in the least possible time.
Flatsome is a multipurpose e-commerce template, suitable for almost all different types of websites and businesses.
Whether you want to open an online store selling clothes, gifts, or even electronic devices, Flatsome template will be very suitable.
Flatsome is the best-selling WooCommerce theme for e-commerce sites with over 135,000 active users at the time of writing, and an excellent rating – 4.8/5
But how good is the template and its features?
Let's take a detailed look at the template and explore if it's worth investing your money in.
Flatsome Template Main Features
The most important feature of the template is that it comes with a drag-and-drop page builder, so you do not need to worry about the need for a programmer or website designer, as it makes it easy for you to design and modify anything in the template yourself and in line with your vision and field of work.
You only need to take advantage of the available tools, and you will be able to create a professional online store with all the features that you see in the best sites.
The template developers have also included a whole bunch of videos that you can check out if you want to learn how to use the page builder.
With Flatsome template you have a powerful set of controls to set up your online store in simple steps.
Here are the most prominent tools and features that you will find with Flatsome template:
Drag and drop page builder.
WooCommerce Integrated Ecommerce Plugin.
Responsive design (for all screen sizes)
Supports more than 700 font types.
Supports adding codes easily.
Templates ready to use
Supports multiple languages, including Arabic.
As you can see, the multiplicity of features and ease of use in addition to the flexibility of the design makes Flatsome an ideal template for anyone and for any type of website in general.
Flatsome Template Updates
Flatsome is constantly updated, so the features listed below are subject to change from time to time.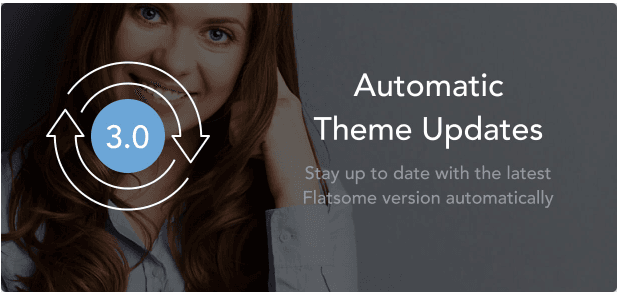 The template was soon updated to version 3.12 which brings better Instagram API integration, lazy loading of images, and prefetching feature for lower load times.
Here is a quick explanation of the most important features that make Flatsome the most popular template for online stores among WordPress users.
Drag and drop page builder
Although performance and loading speed are important to any website owner, the look and design attract customers a lot.
If they are not interested in what they see, they will leave your site by a large percentage!
Flatsome's page builder is very distinctive, and most importantly, easy to use, and you don't need any experience or programming knowledge to design your store's interface and pages on your own.
You can add text, sliders, featured show banners, images, videos, and more…
Since the Flatsome template is optimized for e-commerce, you'll also find widgets for products and product categories that you want to feature on your store pages.
Customize the template with a feature Live Customization
One of the problems with Backend web development is that you usually can't see all the changes that are implemented while you are working on the website live (LIVE).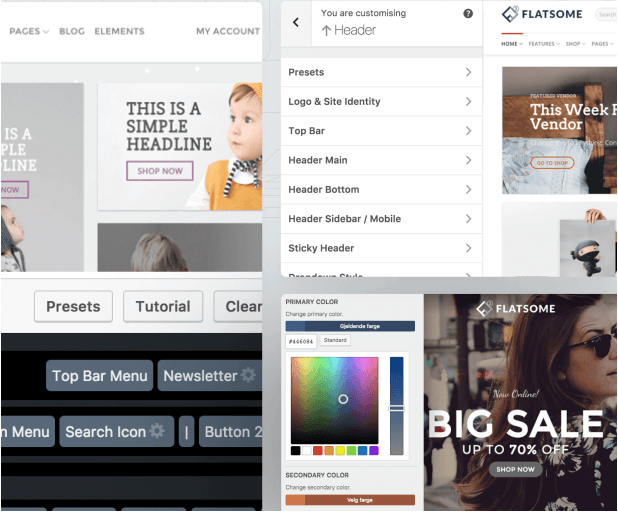 With the live customization available in Flatsome template you can check out the final look of what you are designing in real time.
This is a great feature if you're not a designer or don't have enough experience designing a website, or you're not sure what each option you used while designing does.
UX Builder comes with 9 different e-commerce elements, 30 content elements, and 5 different layout elements for you to choose from.
Also, there are plenty of presets available to use if you don't want to build everything from scratch yourself.
Advanced search feature
One of the most important features that every online store needs is the advanced search bar.
Of course you want your customers to find products on your store as quickly as possible, and this is where Flatsome's live search feature improves your store and increases customer satisfaction.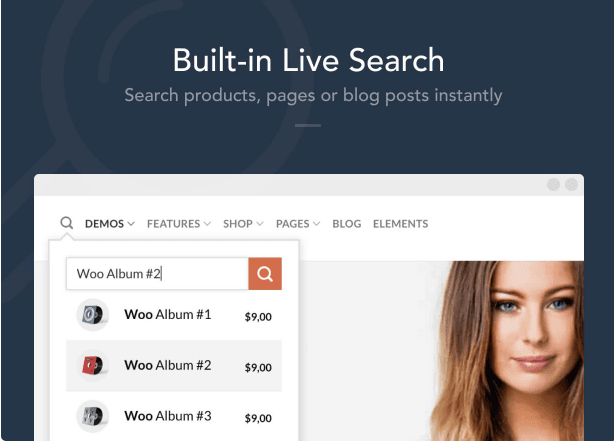 With Live Advanced Search, customers can just type in a keyword or start a product search, and the search bar will automatically list products from your catalog.
To make things even easier, customers can click on the "Quick View" option and check the price and key features of your products without leaving the page they are on.
short codes
Flatsome's website builder relies on short codes to reduce the amount of code required for website design.
The feature is available on almost all WordPress sites and allows you to implement changes to your pages using just a few simple codes.
Short codes also make it easier for people without programming and design experience to come up with new ideas for web page designs without affecting the underlying code in the template.
The use of short codes in the design also ensures that web pages are lightweight and load faster.
responsive design (Responsive Design)
Billions of internet users today browse the internet on their smartphones or tablets, so it's more important than ever for your online store to have a flexible and responsive design.

Fortunately provides Flatsome Template Quick and easy web page optimization options to respond to mobile, tablet and desktop screens.
You can set custom options to ensure your site looks perfect on any device your customers may use.
Just like the live page builder for desktop users, you can edit your mobile and tablet pages with just a few clicks.
ready-made models
Want to create custom pages on your site but don't want to design everything from the ground up?
There are plenty of ready-to-use pages available with Flatsome template that can make a complete site up and running with minimal effort.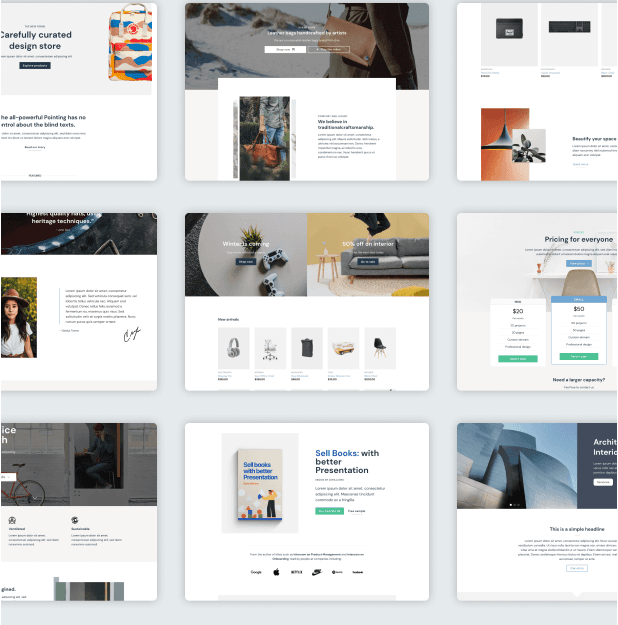 Whether you want to create a product page, upcoming offers, or want a cool homepage with different design effects in each, there are plenty of ready-made templates to choose from.
While Flatsome may be an ecommerce focused template, it can be used by small businesses, freelancers, and many more.
Should You Buy Flatsome Template for Your Online Store?
Let's take a quick look at the main advantages and disadvantages of Flatsome:
Features:
Supports Arabic (Multi-Language)
Advanced template (continuously updated)
Powerful Page Builder (Drag and Drop)
Multiple design options.
Responsive design for all screen sizes.
A large selection of ready-made models.
Free 24/7 support (first 6 months)
Defects:
Support is not free after 6 months.
Switching to another template can be a bit complicated.
Conclusion
Now what do you think of Flatsome template?
Definitely a great template for e-commerce sites, and it deserves a title "Ecommerce Template #1" He kept this title for a long time.
You will not go wrong by investing your money in Flatsome template for your online store, it is easy to use and customizable.
Flatsome is a template that is easy to deal with for your store customers, whether browsing products, or completing the purchase process.
A very popular and trusted template, it is also highly rated on the site themeforest It is constantly updated, and this is a huge advantage that should be taken into account when purchasing any template in general.
mold price: $59 (with free 6 months support, and support can be extended for a full year at $17.63)
Template purchased: 135,317 times
Template Rating: 4.8/5 (based on 5858 reviews)
Direct link to buy the template
---
In the end, we hope that this comprehensive review of Flatsome template will help you make the right decision and decide whether it is the best template for your online store.
If you have any questions about the template, feel free to contact us via the comments below this article.