DreamHost is a leading hosting company, although it is not very popular in the Arab world, and it is one of the oldest hosting services in the world.
DreamHost offers very competitive shared hosting packages starting at $2.59/month.
With DreamHost you get a custom dashboard, one-click WordPress installation with automatic WordPress updates.
It also provides unlimited storage, unlimited bandwidth, and free SSD drives which makes your site significantly faster.
Also, there are no setup fees or fees to transfer your site, and you can also get a free domain name.
All this and more we will learn about in the following lines of the DreamHost hosting review
About DreamHost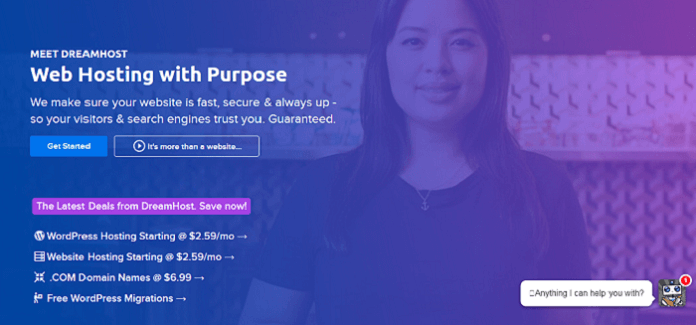 DreamHost was founded in 1997 by four friends at Harvey Mudd College in Claremont, California, USA.
An award-winning global hosting company for the quality of hosting services provided, DreamHost won the "PCMag Business Choice" awards for web hosting services for 2014-2016.
It is one of the officially recommended WordPress hosting services (with Bluehost And Siteground)
DreamHost offers everything you need to start your website, whether it is a new blog, business or service organization.
DreamHost now hosts over 1.5 million websites, including over 750,000 WordPress sites.
Services offered by DreamHost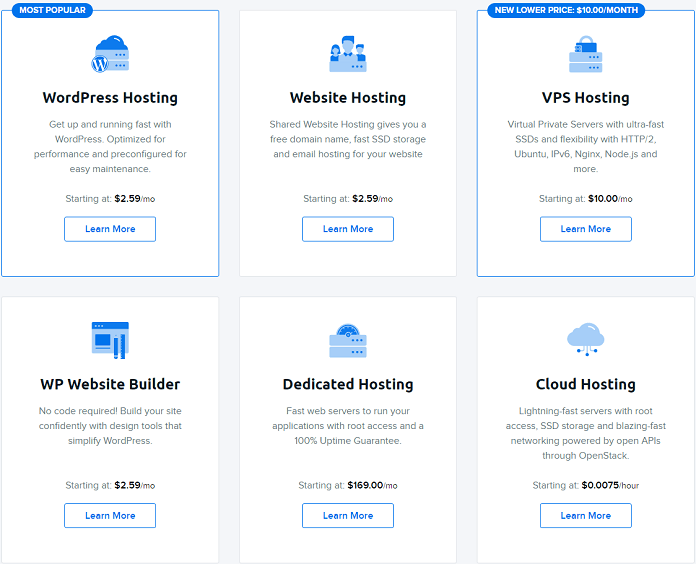 DreamHost provides many services for developers, project owners and websites.
1- Domain Name Selling Service
DreamHost is not just limited to hosting services, you can get domain names too.
You can choose from more than one extension TLD Available for domain names like (.com/.org/.net) and also less common extensions like (.club/.guru)
Country-specific TLDs (eg / .fr / .co.uk / .de.) are also available.
domain name com. it costs 15.99 dollars upon renewal.
2- Shared hosting services
DreamHost shared hosting will save you a lot for your money, starting with:
$2.59 per month for a plan Starter
$4.95 per month for a plan unlimited.
This type of hosting is great to start with, but if your business is growing fast (eg over 200,000 visitors per month) you will need to upgrade to a larger hosting plan like VPS hosting.
3- Virtual Hosting (VPS)
You can imagine a virtual private server (VPS) as a shared hosting server that has been split into several smaller servers.
This means that you can customize it to your needs, as your site will be hosted independently of other clients so that server resources are not shared.
DreamHost VPS hosting plans start from 10 dollars per month and can reach up to 110 dollars per month.
4- Dedicated Server Hosting
If your site is so large that you need a private server, Dedicated Hosting starts at $149 per month.
5- Cloud Computing
That's not all, DreamHost also provides cloud hosting. Imagine it as a chain of interconnected servers hosting your site. It is an ideal solution for those who expect consistently high traffic, as more resources such as RAM and CPU can be added as you need.
Knowing how much you'll pay depends on the resources you need (such as RAM or storage).
6- WordPress hosting
DreamHost also offers dedicated WordPress hosting plans, as there are WordPress packages in shared hosting and VPS hosting as well.
Shared WordPress hosting prices start from:
$2.59 per month for the Starter package
$4.95 per month for Unlimited
Custom WordPress packages start at $10 a month.
7- Hosting woocommerce
Dedicated hosting for online stores with prices starting at $10 per month, which makes the process of creating an online store much easier and faster.
8- Website builder
If you don't want any technical hassles and just want to launch a simple website, a website builder is also available starting at $2.59 with a number of features like paid templates, support, and tools to optimize your site for search engines.
However, this review focuses on DreamHost's shared hosting plans so that's what we're going to talk about now.
DreamHost Shared Hosting Prices
DreamHost's plans and pricing are transparent and simple, offering only two shared plans that come with most of the basics you'll need.
There are also no hidden costs or attempts to sell costly additional features and services.
Let's check out the plans offered by shared hosting:
1- plan Shared StarterStarting at $2.59 per month, limited to hosting one website.
Note that if you need email accounts, they will be paid separately in this plan ($1.67 per month) – which is a very reasonable price.
There are also database limitations, as you will not be able to create more than 6 databases – which is more than enough for one site.
Get the special offer now only $2.59
---
2- Shared Unlimited Plan: It is suitable for hosting more than one website, at a price starting at $4.95 per month.
It includes unlimited email accounts and databases, and no other features are added because the basic plan is already sufficient with unlimited storage, FTP accounts, bandwidth, etc.
Get the special offer now only $4.95
---
DreamHost shared hosting plans include:
Free domain name (available on all annual plans)
Unlimited storage and unlimited bandwidth on both plans.
Unlimited Website Hosting (Unlimited Package)
Unlimited email accounts (in the Unlimited package)
Install WordPress in one click.
---
– DreamHost also offers a WordPress hosting plan called DreamPress It is five times faster than shared hosting.
The servers are optimized for WordPress, they provide cache and backup services, and they can handle the increase in traffic to your site without problems, with prices starting at $10 per month.
Dedicated WordPress hosting also includes:
WordPress Essential Security Updates
Install a private IP address and SSL certificate for e-commerce sites.
No limits on the number of visitors or bandwidth.
A powerful firewall for your site.
In our DreamHost review we found that they offer high quality hosting and a variety of hosting plans at very good prices
All plans include everything you need to build your website, and easily upgrade your hosting plan at any time.
Advantages and disadvantages of DreamHost hosting
DreamHost is certainly a well-known global hosting company, but it may not be for everyone.
Consider these advantages and disadvantages before choosing the right hosting plan for your site.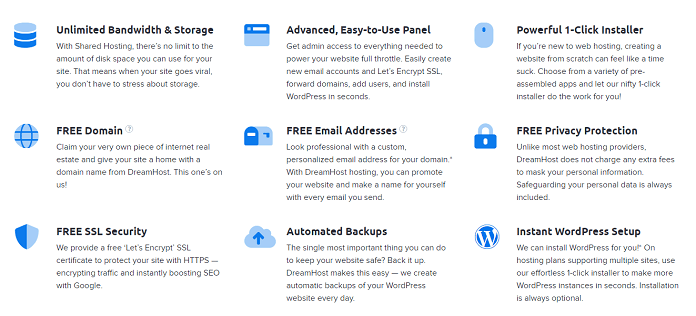 Features:
reasonable prices: DreamHost is one of the cheapest shared hosting services in the world right now.
domain name Complimentary: All DreamHost hosting plans include a free domain name as well as a domain privacy service, so that your contact information is not published publicly on the Internet.
plans monthly without fees Preparation: You can choose to pay monthly with any DreamHost hosting plan without having to pay additional setup fees like other companies.
the performance: The uptime and speed of DreamHost is very good and reliable, especially if your site relies on visitors from North America and beyond.
Unlimited Storage and Bandwidth: Unlike other hosting companies, all accounts come with unlimited storage and bandwidth.
Modern backend: The backend looks very simple and modern, on the contrary it may take some time to master the ones used in the control panels cPanel the other.
No upgrades or additional costs: Many other hosting companies push you to buy add-ons with their hosting plan, such as security, domain privacy, etc., which is not what DreamHost does.
97-Day Money Back Guarantee: You can get your money back if you are not satisfied with the service after 97 days (yes 97) of use.
Defects:
Few One-Click Installations: They only have automatic installs for 8 operating systems (eg WordPress or Joomla).
Server location in US only: They do not have servers outside the US, so this may not be ideal for users from other regions (such as Europe or Asia).
No email accounts in the Starter plan: Email accounts come separately for the shared Starter plan, but they are fairly affordable.
Some advanced features are missing: Some advanced functions seem to be missing such as automatic backups, and built-in caching.
the support Not immediately: DreamHost only offers support via the ticket system, they do not provide live chat or phone support.. All support requests are already responded within 24 hours, but some users find it frustrating to wait for a response for a long time.
No There is cPanel: DreamHost uses their own dashboard, which allows you to manage billing, domains, and hosting settings, users who are used to cPanel may not want to try a new dashboard.
Technical support and customer service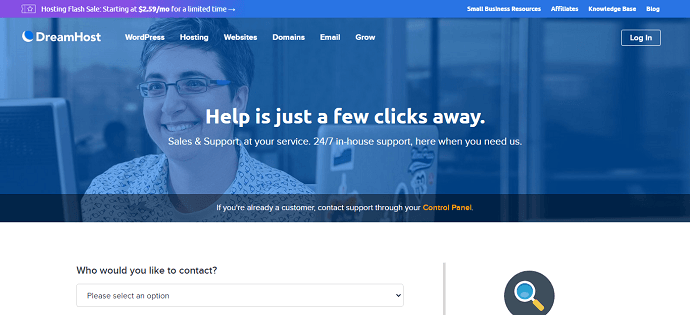 DreamHost provides 24/7 support via ticket system.
You can open a support request through your control panel in your account.
There is also a forum on their official website where the support staff is on the forums most of the time and questions are answered within 24 hours.
Although some users were frustrated with the lack of access to phone support or live chat.
While live chat and phone support can be useful for answering simple questions, customers with more complex issues are usually directed to open a support ticket anyway.
DreamHost provides an extensive information base on its official website that answers the most frequently asked questions users have about their hosting plans.
Is DreamHost Right for You?
Now that you've read the DreamHost review you may be wondering if it is the right hosting service for you.
After reviewing DreamHost services in detail, we give them the title of "Best Hosting for Professionals"
DreamHost is highly rated for their fast and reliable hosting, and they have received many awards and good reviews from customers, but it might not be the right choice for you if you need a lot of help starting your site.
Since they only provide support via a ticket system, we recommend DreamHost for users who can handle some common technical issues and issues on their own without relying entirely on technical support.
Do you have anything to add to what was presented today in the DreamHost hosting review?
Are you ready to start using DreamHost hosting today?