Astra is a multipurpose, popular, fast and highly customizable WordPress theme.
Developed by Brainstorm Force Team..
It not only has high "5 star" ratings but also over 1 million active installs, making it one of the best and most popular WordPress themes out there.
One of the most prominent features of this template is its ability to load website pages in less than half a second. This is due to the nature of the template as it is light (less than 50 KB).
It also provides you with both free and paid version as per your need, and both are premium.
Astra is an SEO friendly template designed to work with Best Page Builder Plugins To make the process of creating and designing your website even easier.
If you're looking for a fast, multipurpose template, Astra is definitely one of the best choices right now.
In this review, we tried to shed light on all the features of the Astra template.. We hope that it will answer everything you are looking for.
Advantages of using Astra template
As we mentioned, the Astra theme has many features that made it one of the best WordPress themes in the past years.
To be able to talk about all the features and features of the Astra template in detail, we will definitely need more than this article.
The template has many features that all users of different levels of experience can benefit from in dealing with WordPress templates in general.
But we will try to shed light on the most important and most prominent of these features that come back to you when using the Astra template in creating your site.
1- Your website is responsive to mobile phone screens
(Mobile-Friendliness) Astra template provides you with flexible designs and templates that adapt to all screen sizes from mobile phones, tablets and desktop computers, ensuring that your visitors get the best possible user experience.
2- Your site is search engine friendly
(SEO- Friendliness) Your website will rank better with the help of Astra's advanced SEO practices.
The template also features a built-in Schema markup responsible for helping search engines easily understand what your site is about.
As a result, search engines will be able to better understand how to display relevant results to users.
3- Seamless integration with important plugins for your site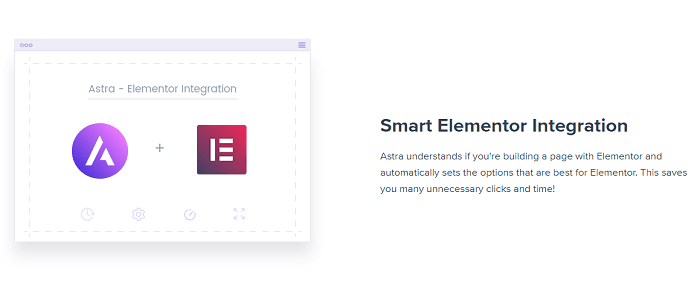 The free version of Astra template integrates with a number of premium plugins such as WooCommerce, Elementor, Beaver Builder, and others…
The paid Astra Pro theme also comes with many premium and powerful plugins for template design and customization options.
4- Easy to design and customize your site
With the Astra template you have the ability to modify all aspects and details of your website, without the need for programming knowledge.
Where you can create and customize many styles and layouts to meet your needs.
You can specify the color and type of font you want on your pages, and you can modify the look and design of each element on the page.
There are also many options to customize the sidebar, header, and widgets for separate pages or for the entire site.
5- Have a secure and powerful website
Astra focuses on clean code and high standards that ensure your site remains secure and protected.
You'll receive constant updates to the template, and the template offers integration with security plugins like Wordfence.

The difference between free and paid Astra template
"The Astra theme is free now and forever," says the developer team at Brainstorm Force.
although Free Astra Template It is characterized by the speed and flexibility necessary to create an attractive and integrated website.
But if you want to access exclusive features, there is Paid version of the template Astra It provides you with some distinct and effective features.
Here are some of the things you get when you buy Astra Pro . version :
A number of ready-made demos and templates for various types of websites.
Special support via email.
Get a number of powerful plugins like Easy Digital Downloads, LearnDash, LifterLMS, etc…
WooCommerce add-ons like Quick View, Infinite Scrolling, Checkouts pages and more…
Get other important add-ons like Convert Pro, WP Portfolio, and Schema Pro.
The ability to customize the header such as making a Sticky header, Mega Menu and creating a custom header for mobile devices.
More control over colors, fonts, sidebar elements, content section, footer, and blog pages.
See more about the difference between the free and paid version of the Astra template in detail
from here ..
The most important features of the Astra template
After we reviewed the most important features that accrue to you as a website owner when using the Astra template in creating your site, now we quickly review the most important features of the template itself.
1- Speed ​​of performance
Astra theme was developed with a focus on one thing.. which is to be a lightweight template with high download speeds.
While other WordPress themes require 300KB of resources, the Astra theme only requires 50KB!
The template is so fast that it only takes 0.5 seconds to load.
It also scores well on speed tests like Google Page Insights, GTmetrix, and Pingdom.
Astra template developers use vanilla JavaScript instead of JQuery which affects the improvement of the external speed of your website.
You can also combine the Astra theme with other optimizations to increase the speed and performance of your site even more, but most of the time you won't need to.
2- Ready for e-commerce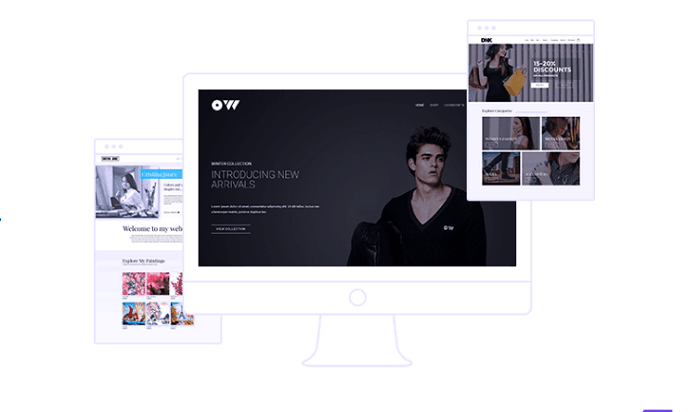 It is very important to make sure that the template you are using supports WooCommerce especially if you intend to build an e-commerce site or even sell your own services.
Fortunately, Astra offers solid integration with the popular e-commerce extension WooCommerce.
The template comes with a variety of customization options that you can use to build an online store that meets your needs.
With the help of Astra's WooCommerce integration you can access grid layouts, quick view product images, drop down shopping cart, infinite scrolling to view products, various gallery options, and many more important e-commerce integrations.
3- Integration with page builder tools
Although the Astra template works very well with both Beaver Builder and Elementor, it also supports many other page builder plugins such as:
Divi
Visual Composer
Site Origin
Thrive Architect
Brizy
Gutenberg
4- Ready-made website templates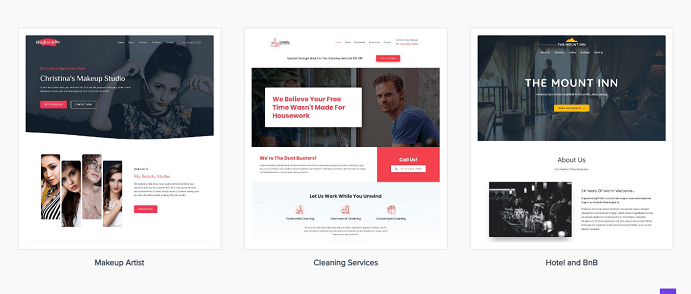 Astra template offers you over 100 pre-made demo websites to help you build any website quickly and easily.
All you have to do is install the free add-on Astra Starter Sites
But always remember that Astra provides you with many powerful page builders, which you can use to set up a website from scratch as you like.
This is not something you get with other WordPress themes.
Once you select the page builder you want to use, you can access a large number of demo templates for different websites.
Astra categorizes these templates into blogs, online stores, and business websites to make the selection process easier.
After you find the template you like, you can import it with the click of a button, and reduce the time you spend building your site from scratch.
5- Powerful customization tool with live preview
The template customization feature with Astra Live Preview helps you monitor changes you make to your site at the same time.
You can view changes in a real-time preview panel, so you always know what your site looks like before you publish it.
While this feature is prevalent in most WordPress themes today, Astra is different because it offers you a wide range of customization options within the control panel.
For example, you can change the look of the sidebar, make header and footer adjustments, customize blog pages and more…
In short, you can completely customize the Astra template to have a look and feel consistent with your vision or brand.
Astra قالب template prices
Astra is a "Fermium" WordPress theme. This means that it is free.. but it also offers some paid options via annual plans or a lifetime subscription.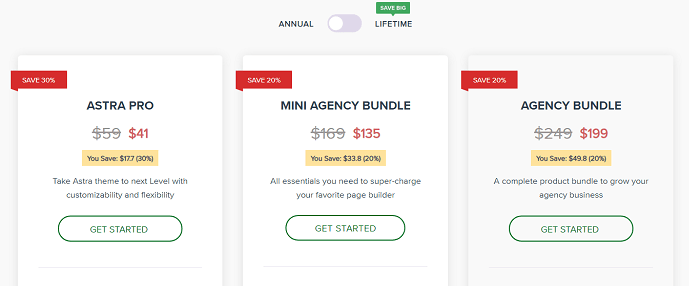 1- ASTRA PRO . Package
Annual subscription price = 59$ .. Currently, a 30% discount on this package becomes $41 for a limited time!
Lifetime subscription price = $249 .. Currently, a 30% discount on this package becomes $174 for a limited time!
All the features of the Astra Pro template.
More than 20 ready-made website templates.
Email support.
Intensive training in the use of the template.
Use on an unlimited number of sites.
---
2- MINI AGENCY BUNDLE
Annual subscription price = $169 .. Currently, a 20% discount on this package becomes $135 for a limited time!
Lifetime subscription price = 499$ .. Currently, a 20% discount on this package becomes $399 for a limited time!
All the features of the Astra Pro package
Over 55 ready-made website templates.
Add WP Portfolio
Choose an add-on from "Ultimate Addons for Elementor" or "Ultimate Addons for Beaver Builder"
---
3- AGENCY BUNDLE
Annual subscription price = $249 .. Currently, a 20% discount on this package becomes $199 for a limited time!
Lifetime subscription price = 699$ .. Currently, a 20% discount on this package becomes $559 for a limited time!
All the features of the Mini Agency package.
Over 55 ready-made website templates.
All paid add-ons are from Astra.
A subscription to SkilUet Academy.
Any future additions.
---
Final verdict
Astra is an exceptional multipurpose WordPress theme that both novice and professional WordPress users can handle.
The Astra template with all the customizable options and features will help you easily create any website you dream of.
Astra theme is very lightweight and offers powerful performance, which means that you will get all the benefits of the theme and at the same time you will enjoy super fast loading speeds for your site.
Unlike many multi-purpose WordPress themes that are full of features and features, but you will suffer from the slowness of your site often.
Whether you are using the free or paid version"Astra Pro"Your visitors will get the best user experience ever.
In the end, we hope that this review will help you make the right decision whether to go with the free Astra template or invest your money in the paid version.
Now that you know the features and prices of the Astra theme, do you think it deserves a high rating among multipurpose WordPress themes?
Please share your opinion and evaluation of the template in the comments below this article.