A2 Hosting is a premium hosting company that has been in the market since 2002.. It is known for its server load speeds and reasonable prices.
A2 Hosting offers one of the fastest hosting services, and also has a high uptime which makes their hosting service reliable and robust.
Their technical support service is quite fast and helpful, A2 Hosting also offers flexible and multiple hosting plans, with a money back guarantee at any time – which is a unique feature –
The biggest downside is the average pricing when renewing the hosting after the initial subscription period expires.
However if you need a fast web hosting service with relatively cheap starting prices ($2.99/month) with the ability to upgrade at any time as your site grows, you might be A2 Hosting A good choice for you.
Today we will talk about the pros and cons of A2 Hosting after we signed up, paid for the hosting service and tested it for a whole year.
A2 Hosting Overview
the speed: 305 milliseconds (average November 2019 to October 2020)
Runtime: 99.98% (Average November 2019 to October 2020)
Technical support: Always available 24/7 via live chat, email and phone.
Available applications: WordPress, Joomla, Drupal, OpenCart, and Magento.
Highlights: Unlimited Bandwidth Free SSL Certificate CloudFlare CDN Anytime Money Back!
Hosting types: Shared hosting, WordPress hosting, virtual private hosting, redistribution hosting and dedicated servers.
Site transfer: Transfer one site for free with shared hosting packages ($10 for each additional site)
the prices: Starting at $2.99/month (Renewable at $8.99/month after the initial subscription period)
Features of A2 Hosting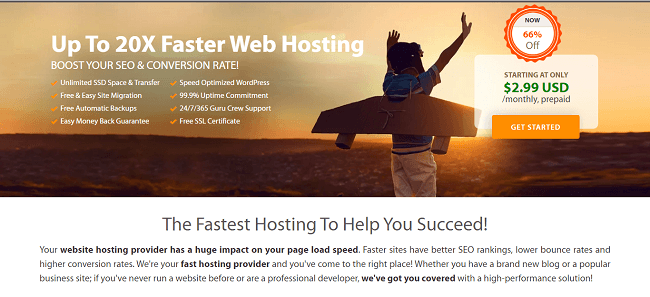 A2 Hosting is one of the best hosting companies that we may not know well in the Arab region.
The hosting speed is excellent, the uptime is very good, the customer service is strong, it provides the necessary security features for all sites on its servers, and the refund policy is unique.
Let's take a detailed look at some of the features of A2 Hosting.
1- One of the fastest shared hosting services
After testing the speed of A2 Hosting's servers over a period of 12 months, we can say that it is one of the fastest shared hosting services at the moment compared to its prices.
It achieved an average loading time of (305ms)
This is no small feat in today's world where page load times can make the difference between keeping your visitors or losing the competition.
2- 99.98% reliable uptime
In addition to being fast, A2 Hosting is very reliable and dependable.
A2 Hosting had some problems a few years ago for the uptime to reach the required level globally, however they managed to solve most of the problems over the past year and achieved an uptime of 99.98%
Their total server downtime was only 2 hours in 12 months.
3- Excellent technical support service

A2 Hosting provides 24/7 technical support through live chat, email and phone.
They also have an extensive knowledge base on the official website if you'd rather find an answer on your own or learn something new.
Naturally, we tested the live chat support service and got in touch with a representative in less than a minute, we asked a bunch of questions and received live answers to all of them.
Overall it was a great and professional support experience.
4- Monitor the server and scan for malware daily
The best way to keep your site secure is to prevent problems before they happen, but additional scanning, firewalls, or layers of encryption often slow down your users' experience on your site.
This is not the case with A2 Hosting where work is done to the highest standards while giving you a lot of additional security features.
A2 Hosting servers are protected by HackScan, a 24/7 monitoring service that scans for malware and other attacks.
Their data centers are also scalable, which means that you are protected in the event of a denial of service (DDoS) attack as these attacks try to flood servers with malicious traffic and take your site offline.
So the A2 Hosting You may have helped deal with these sudden and unexpected increases.
5- Free website transfer service
A2 Hosting offers one website transfer service to its servers without additional fees on all plans.
With the shared hosting plan if you have more than one site you want to migrate it will cost $10 for each additional site.
And if you are on a larger hosting plan such as VPS hosting, dedicated server or Reseller hosting, you can migrate up to 25 sites for free.. "The terms of service explain everything in detail."
To take advantage of this you need to contact customer support and give them your cPanel data.
If your websites have any control panel other than cPanel you may pay some additional fees.
6- Content management systems (CMS) and available applications

A2 Hosting works seamlessly with all major CMSs.
You can install a WordPress, OpenCart, Drupal, Joomla or Magento site in just a few clicks and you don't need a developer to do it.
A2 Hosting also has performance optimization add-ons to make CMS faster, starting with the Turbo Boost plan you get a free CloudFlare CDN which greatly contributes to the speed of your site.
Let's say you are a webmaster or agency looking to host dozens of websites in one place, in this case A2 Hosting comes with developer friendly tools.
You get admin level access on servers, free server backups, and multiple versions of everything from PHP to MySQL, Apache, Python, Ruby, and more.
A2 Hosting also has a website builder (A2 SiteBuilder) however it is not included in the hosting plans and is priced separately.
7- Anytime Money Back Guarantee
Most hosting companies offer a 30-day money-back guarantee or sometimes longer.
But A2 Hosting goes above and beyond and offers an "anytime" money back guarantee!!
This means that you are able to get a full refund within the first 30 days.. but if you find that the service is not suitable, you can cancel at any time and get a refund appropriate to the time remaining for your subscription that you paid in advance.
However there are some obstacles:
First is that any refund request after the first 120 days is issued through PayPal.
Second is that additional services like domain name setup or migration are not refundable, and you can keep anything that is not refunded like domain name.
8- The ethical aspect of A2 Hosting
The city of origin of A2 Hosting in Ann Arbor, Michigan, USA is known as "Tree Town"
They are said to have over 50,000 trees and 150 gardens, so A2 Hosting has a moral duty to help protect the planet from global warming.
A2 Hosting has partnered with Carbonfund.org to help support the renewable energies and recycling industries.
They also have a green hosting initiative "FutureServe" to help offset the emissions from their servers.
This may not be a decisive factor in deciding to subscribe to A2 Hosting .. but knowing that the company you are dealing with cares about the environment is a good thing.
Disadvantages of A2 Hosting
A2 Hosting has many advantages, but we also found some negatives just like any other hosting company.
Here's a look at each of these downsides in detail.
1- High subscription renewal prices (and a period of 15 days)
A2 Hosting offers lower rates with long-term plans, and they also have introductory pricing for the first term, which cuts the regular price by more than half.
This good deal ends after the initial subscription period when auto-renewal starts at the regular rate.
The renewal price is double the monthly price you paid for the first time.
In accordance with the Terms of Service, you must submit a written cancellation request "15 days before the end of the subscription period" through their customer portal or by sending an email to billing@a2hosting.com.
But what happens if you miss the 15-day period?
You will have to pay the next renewal plan, which will be automatically renewed and you will not be eligible for any refund.
2- Restrictions on the cheapest hosting package
The introductory price for the cheapest shared hosting plan "Startup" is currently $2.99 ​​per month (66% off the regular price)
But there are multiple limitations to that plan, as you can only host one website, with a 100GB SSD storage, and missing features like automatic backups.
Drive's top hosting plan gives you unlimited website hosting, unlimited SSD storage, free automatic backups, and 2X more resources, starting at $4.99 a month.
This makes you wonder if the Startup plan is just there to promote the rest of the plans, as the actual useful features start at a higher price.
The same issue applies to their website builder, where the cheapest $2.99 ​​per month subscription gives you the ability to create just one web page – not enough to build an entire website!
A2 Hosting pricing
We will focus here on the most popular hosting prices, which is shared hosting.
A2 Hosting offers four different shared hosting packages, which are as follows:
1- STARTUP package
Starting at $2.99 ​​per month with a 3-year subscription.
One website hosting.
100 GB SSD storage.
Unlimited bandwidth.
Free SSL, CDN and DNS Certificate of Protection.
Migrate one site for free.
---
2- DRIVE PACKAGE
Starting at $4.99 per month with a 3-year subscription.
It's all in the STARTUP plan.
Unlimited websites and storage space.
resource weakness.
Free automatic backup and server rollback feature.
---
3- Turbo Boost Package
Starting at $9.99 per month with a 3-year subscription.
It's all in the Drive plan.
NVMe storage.
A2 Enhanced Website Accelerator.
LiteSpeed ​​Cache Extensions.
Turbo features with server up to 20 times faster.
---
4- Turbo Max package
Starting at $14.99 per month with a 3-year subscription.
It's all in the Turbo Boost plan.
5 times the resource.
---
Quick facts about A2 Hosting:
Ease of Subscribing: Where the subscription is in only three steps.
payment methods: Credit Card, PayPal, Check or Money Order, Bank Transfer, UnionPay and others..
Hidden fees and items: Renewal rates are more expensive than the initial subscription period, domain name is non-refundable, only one site migration is free on shared hosting plans.
Upsells: There are some hidden fees during the subscription process such as domain name protection and others..
activate the account: Immediate activation.
control Board: The famous cPanel
Applications and content management systems: The option to install WordPress and other popular content management systems is available right in the control panel with ease.
Do we recommend A2 Hosting?
Yes, definitely!
A2 Hosting has consistently provided the best speed in its price category over the past years.
They have also improved server uptime, which is now more efficient and reliable.
Customer support is fast and helpful, and all shared plans come with a free SSL certificate and one free website migration.
If you encounter problems at any time during your subscription period, you can request a refund of the amount paid on the balance for the unused period.
The biggest downside is that the renewal prices are a bit high.
Plus if you're paying for a shared "Turbo Max" package to host an unlimited number of websites, it still gives you a free migration for just one site.
Some people may not agree with these details, so while A2 Hosting is very good, it's also not the best web hosting.
Do you or have you used A2 Hosting before? ..
If the answer is "yes", you can share with us your evaluation of it, whether it is good or bad, it does not matter as long as it is useful to our visitors.
In the end, we hope that we have succeeded in presenting the advantages and disadvantages of A2 Hosting in a detailed and comprehensive manner, so that the benefit can be achieved.
If you have any question about hosting your WordPress site, please leave it in the comments section below the article and we will answer it.