WordPress Page Builder Plugins have become one of the most popular and important plugins for all WordPress users today.
If you want to create a website yourself and without the help of a programmer, you should choose a suitable WordPress plugin to create and design the website pages as you want.
WordPress "drag and drop" page builder plugins help you design beautiful websites and fully customize them with ease.
It also enables you to create powerful landing pages to help you increase conversions in your business.
In this article, we are going to compare the 7 best WordPress drag and drop page builder plugins, so you can choose the best one for your needs and start building your site.
Definition of a page builder plugin for WordPress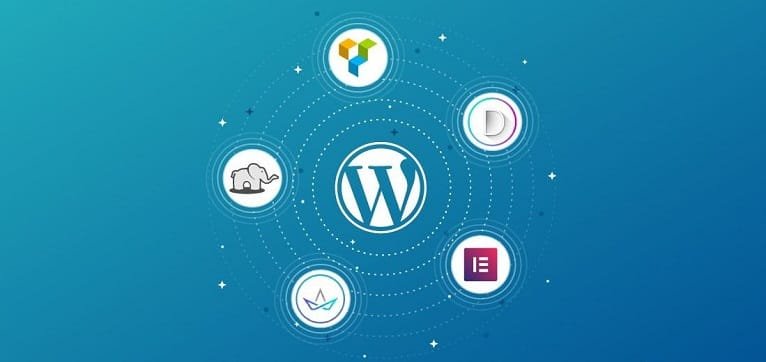 While it is easy to find a WordPress theme that adapts to your workflow, the customization options on most themes are limited.
Unless you are a developer, you cannot make major modifications to the design of your site template.
Here comes the need for a page builder that allows you to build pages and create custom designs for your site the way you want.
Almost any design you can imagine, you can now create it even if you are not a programming expert!
Now let's take a look at what you should keep in mind when comparing the best WordPress page builder plugins so you can choose the right one for your needs.
1- Compatibility: If you are not interested in changing your WordPress theme, the first thing you need to check is whether the plugin you want to use is compatible with the theme.
If you find any compatibility issues, you may need to use a theme that is compatible with the plugin or look for another plugin that is compatible with the theme.. "Most of the plugins in this article are compatible with all themes"
2- Features: You need to know the peculiarities of each addition when making a comparison.
For example, some of these plugins come with many ready-to-use designs on your site while others include some animation effects.
3- The extent of the response: You need to make sure that the page builder plugin you choose allows you to create responsive designs that are compatible with different screen sizes "Every plugin we have included in this article allows you to create responsive designs"
4- Create optimized pages for search engines: You need to make sure that the page builder extension creates pages that are search engine friendly.
Fortunately, all the plugins listed in this article are 100% search engine friendly.
Now let's have a look at the best drag and drop WordPress page builder plugins in 2020.
Best WordPress plugins to create pages
Here is a list of the 7 best WordPress plugins for creating pages, all of these plugins work in a drag-and-drop manner and are easy to use for all users with different levels of experience.
All of them are distinctive and practical add-ons, and you can choose what you see fit to start your business and build your dream website yourself.
1- Beaver Builder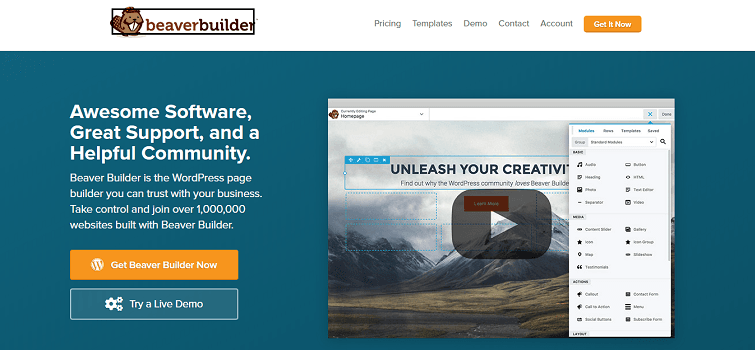 It is one of the easiest WordPress plugins to create pages with drag and drop feature.
It gives you the ability to create a website the way you want without any programming or coding knowledge.
You can drag and drop all the elements to easily create beautiful pages.
Come Beaver Builder With dozens of great page templates, you can easily create your own design without starting from scratch.
Where you can choose a ready-made template, replace your images and text, and then press "Publish".
Beaver Builder works with most WordPress themes, giving you complete control over your content.
The best thing is that even if you stop using the plugin, your content is transferred to the default WordPress editor.
With the plugin's paid plan, you will get beautiful templates compatible with the Beaver Builder plugin that allow you to tweak your styles with the WordPress Customizer.
Price: Starts at $99 for an unlimited number of sites.
Get started with Beaver Builder
---
2- Divi Builder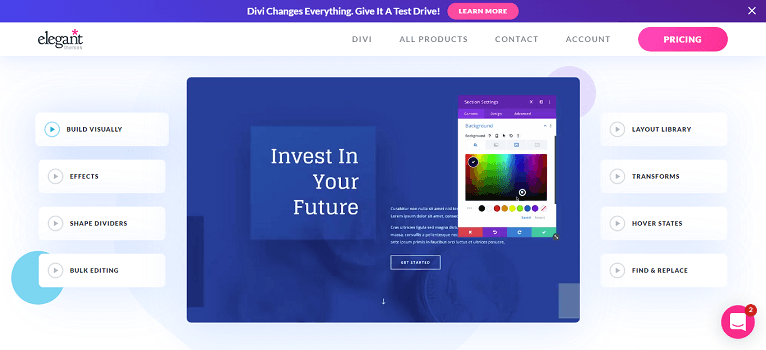 A complete WordPress site builder with over 100 premium demos.
Divi Builder is one of the most powerful WordPress page builder plugins that allows you to create any type of design on your site using drag and drop feature.
Divi Builder was created by Elegant Themes, a developer of WordPress themes and plugins.
The Divi builder plugin works with almost any WordPress theme and gives you endless possibilities to create unique designs without having to write a single line of programming language.
With advanced design settings, the extension allows you to easily customize each element as you like.
However if you want to make changes to the entire design you may want to use the Divi template (you get it when you buy the add-on as a bundle)
With the template, you can create pages using the front-end editor, so that your pages can be updated directly from the front-end without having to switch back and forth from the control panel to your site.
Price: Starts at $89 (a product bundle that includes the Divi theme and some other premium add-ons)
---
3- Elementor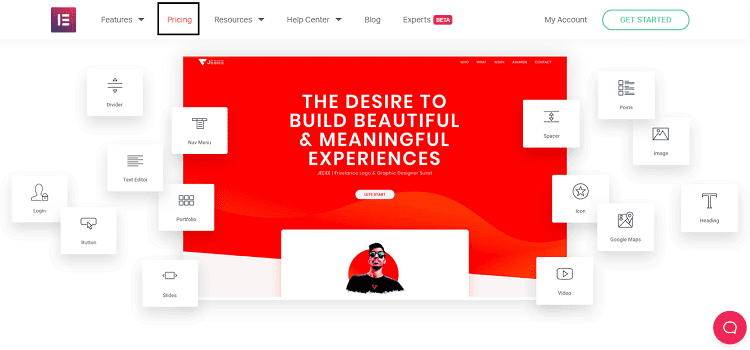 Elementor It is a popular WordPress theme builder with loads of features and features.
It is the first free and open source drag and drop page builder plugin for WordPress.
With our easy-to-use drag-and-drop tool, you can make instant page edits from the front end of your site.
Elementor is known for its fast and high performance, which makes it incredibly fun and easy to use.
With our comprehensive template library, you can get hundreds of beautiful WordPress themes by top-notch designers, which can be exported to different websites through our page builder.
Elementor supports responsive, mobile-friendly design allowing you to create web pages that work great on any device.
Some of the other great features of Elementor are:
Multiple content elements (widgets): You can create any page with ease with the flexibility of placing your content using multiple content elements such as images, video, buttons, different texts and many more…
Maintenance mode: To perform maintenance and modifications to your site, you can take your site offline through the extension's built-in maintenance mode.
Integration with Zapier: Integrating your site with a third-party application is easy with Zapier's proprietary integration.
Price: Starts at $49 for a single site license and a free version is also available.
---
4- Themify Builder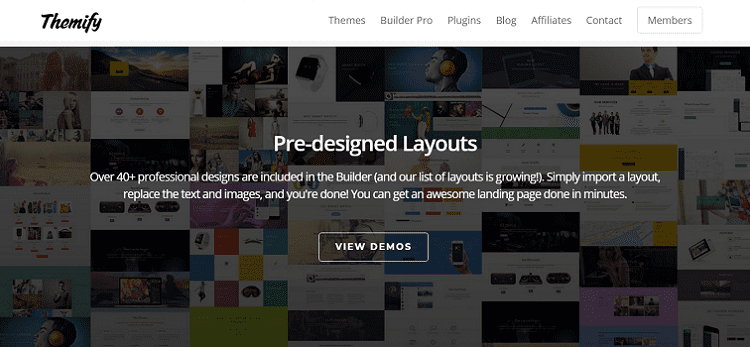 come add Themify Builder With its drag and drop feature that helps you easily create any design you can imagine.
The plugin includes more than 60 preset designs, and animation effects that you can choose from to integrate into your pages.
This means that you can build beautiful pages quickly without having to start from scratch.
All you have to do is simply import the formats you want to use, replace the images and text with your content, and you're done.
The add-on comes as a standard feature with all templates Themify You can also use the plugin with any other WordPress theme.
From the Easy Add Control Panel, you can use the drag and drop feature to build pages quickly and easily.
In the front end you can preview the look of the page and make direct modifications to the design.
It is not one of the most popular WordPress plugins for creating pages, but it is a powerful, distinctive and very easy to use plugin.
Price: The basic add-on is free or $39 for the paid version
Get started with Themify Builder
---
5- Thrive Architect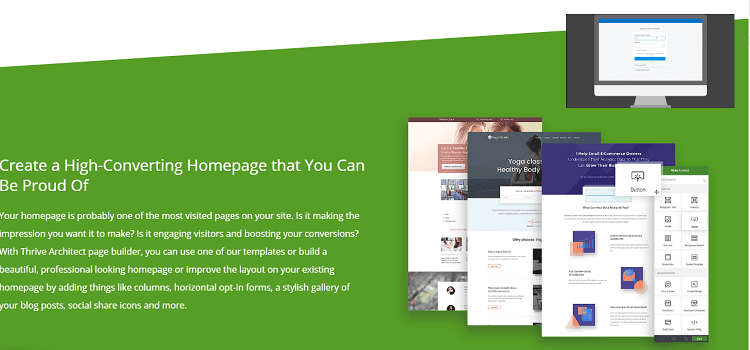 Thrive Architect The most powerful WordPress landing page builder plugin is a page builder designed for websites that focus on increasing conversions.
Thrive Architect is developed by Thrive Themes, a company that sells WordPress themes and plugins designed to increase conversion.
Thrive Architect comes with a drag-and-drop editing tool as well as 271 ready-made landing page templates.
With Thrive Architect you can create a powerful homepage, sales page, blog posts and everything you can design quickly and easily.
Price: Starts at $67 for a single site license or $19 per month for a Thrive membership
Get started with Thrive Architect
---
6- SiteOrigin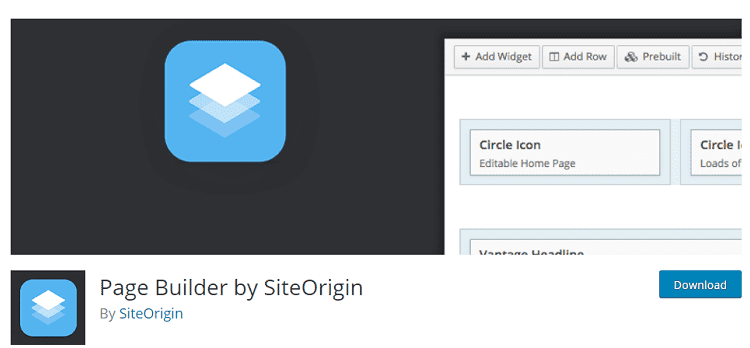 SiteOrigin It is one of the most popular free WordPress page builder plugins with over 1 million active installs.
With SiteOrigin you can create responsive content with different screen sizes, and is friendly to search engines.
The SiteOrigin builder works seamlessly with almost all WordPress themes, so you can add your favorite widgets to the websites you create.
The best part about SiteOrigin is that you can find a lot of premium and compatible WordPress themes created by the same people who created the SiteOrigin plugin.
The only downside is that there is some difficulty in using the plugin, especially for beginners.
Price: Free
---
7- WPBakery Page Builder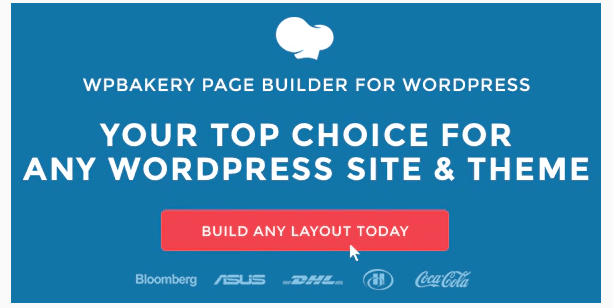 is an addition WPBakery Page Builder Formerly known as Visual Composer One of the most popular WordPress page builder plugins on the market CodeCanyon (It is a leading site for selling paid WordPress plugins)
If you need a premium WordPress page builder that offers lifetime updates, look no further than WPBakery Page Builder.
It works seamlessly with both frontend and backend editors, making creating your own content quick and easy.
WPBakery Page Builder works with most of the popular WordPress plugins, including Yoast SEO and WooCommerce.
It is also compatible with the most popular translation plugins like Polylang and WPML so that you can easily create multilingual websites supported by the WPBakery page builder.
Price: $46 for a single site license
Get started with WPBakery Page Builder
---
Frequently asked questions about choosing the best WordPress page builder plugin
Here are some common questions that every novice user might ask when it comes to choosing a WordPress plugin to build pages.
How to enable the page builder in WordPressBryce?
Enabling a page builder plugin for a WordPress site is very simple.
Initially, when you add a new page you will only be able to see the Visual and Text editor aka WYSIWYG (what you see is what you get) WordPress editor.
If you want to enable the page builder plugin instead of the default builder, go ahead and install any of the above WordPress page builder plugins on your site.
Once you have installed the appropriate plugin for you, you will be able to see the Page Builder Editor pop up while adding a new page or new post with the traditional WordPress editor.
Any of the page creation plugins WordPress is the best option?
Every addition on this list comes with a drag-and-drop builder on the backend and a live editor on the frontend.
Before deciding which of these plugins is the best option it is important to understand what makes the WordPress page builder plugin good or better than other page builder and design plugins.
Of course, only you can decide which of these additions is better than the other (for you).
Is it the price, or is it compatible with the template you use on your site, or maybe the interface that is easiest for you to work with.
After comparison, we found that Elementor It is the best WordPress plugin for creating pages with drag and drop feature.
Elementor A distinctive, powerful and easy to use addition to a large extent, and the free version of it provides some great and useful features in creating attractive designs for your pages, especially if your budget is limited.
In addition to the paid version Elementor pro Which allows you to design a complete WordPress template using one of the templates from the ready-made template library..
Also, Beaver Builder is a great add-on for creating and designing pages in WordPress easily and quickly.
Beaver Builder provides a wide range of pre-made templates to help you quickly build a page from the ground up.
After selecting the appropriate layout for your site, you can customize the page the way you want and use it directly.
Ultimately, we hope that this article will help you find a page builder plugin that fits your needs, and enable you to build your dream website however you want.
If you like this topic you may also like to read: How to create a WordPress website step by step with this comprehensive guide.